March 13, 2018
Kaasina Mele Lokha Lyrics
Kaasina Mele Lokha Lyrics: Kaasina Mele Lokha is a song from the 1997 Kannada movie Lakshmi Mahalakshmi, directed by Yogish Hunsur and written by Ajay Kumar. The film was produced by Nagarathna Kumar under the banner Sri Devi Films. Lakshmi Mahalakshmi features Shashikumar, Abhijith, Shilpa, Shwetha, Padmavasanthi, Pramila Joshai, Doddanna, Mukyamanthri Chandru, Sarigama Viji, Bank Janardhan, Sihikahi Chandru, Sathyabhama, Tennis Krishna, Jyothi, Ramamurthy and others.
The song was composed and written by Hamsalekha. Kaasina Mele Lokha was rendered by S.P. Balasubrahmanyam and Chamal Rao.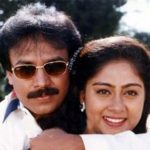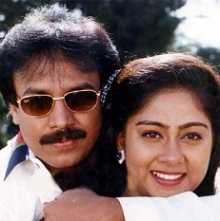 Kaasina Mele Lokha Lyrics
Movie: Lakshmi Mahalakshmi [1997]
Music Label: N/A
Music: Hamsalekha
Singer: S. P. Balasubrahmanyam, Chamal Rao
Lyrics: Hamsalekha
Check out the lyrics here..
Kaasina Mele Loka Kaasina Shoka
Kaasina Mele Loka Kaasina Shoka
Bhoomiya Mele Swarga Naraka
Ella Kaasinda
Kaligaala Chinthisuva Kaala
Budhdhi Kaliva Kaala
Kaliyadavarigella Shoola
Kaasina Mele Loka Kaasina Shoka |2|
Ee Hrudaya Siri Munde
Aa Hanavu Thrunavende
Preethiya Mare Maadalu
Ninthide Ee Honnu
Nambike Alugaadalu
Kaarana Ee Honnu
Aa Duraase Ee Niraase
Janisiruvude Ee Kaasali
Kaasina Mele Loka Kaasina Shoka |2|
Ee Kaanchanve Amrutha
Ee Kaanchanave Anrutha
Kaasige Manasolada
Jnanige Sukha Nithya
Kaaasige Sereyaadare
Sankata Nithya Sathya
Kaasu Bandaga Bandu Hodaaga
Nirlakshisu Sukhiyaaguve
Kaasina Mele Loka Kaasina Shoka
Kaasina Mele Loka Kaasina Shoka
Bhoomiya Mele Swarga Naraka
Ella Kaasinda
Kaligaala Chinthisuva Kaala
Budhdhi Kaliva Kaala
Kaliyadavarigella Shoola
Kaasina Mele Loka Kaasina Shoka |2|
Lakshmi Mahalakshmi Kannada Songs
Baaramma Badavara Manege
Mutthina Ungura
Maagi Kaalada Hennu
Hai Bengalore
Kaasina Mele Lokha
Comments
comments