February 16, 2023
Kaatera Kannada Movie Cast & Crew, Trailer, Release Date, Review
Kaatera Kannada Movie Cast & Crew, Trailer, Release Date, Review: Kaatera is an upcoming Kannada film, directed by Tharun Kishore Sudhir who co-wrote the screenplay with Jadeshaa K Hampi. Dialogues were written by Maasthi. The film was produced by Rockline Venkatesh under the banner Rockline Entertainments.
Kaatera Kannada Movie Cast & Crew
Kaatera Kannada Movie Cast includes Darshan, Radhana Ram, Jagapathi Babu, and others. The film marks the debut of Radhana Ram daughter of popular actress Malashree.
Kaatera Kannada Movie crew includes Music director V. Harikrishna, Cinematographer Sudhakar S Raj, Editor K M Prakash, Production Designer Guna, and others.
Kaatera is the third collaboration of the actor Darshan and director Tharun Sudhir after Chowka and Roberrt.
Kaatera Kannada Movie Release Date
The much anticipated 56th film of Challenging Star Darshan D56 title 'Kaatera' and First Look Motion Poster was revealed on the occasion of his birthday on 16 February. Currently shooting of the movie is in progress.
Kaatera Kannada Movie Trailer
Kaatera Kannada Movie Review
Kaatera Kannada Movie is is story said to be based on a real-life incident during 1970's in a rural backdrop.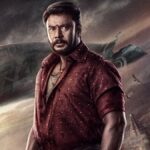 Movie Name : Kaatera [D56]
Starring : Darshan, Radhana Ram, Jagapathi Babu and Others
Banner: Rockline Entertainments Pvt. Ltd.
Producer: Rockline Venkatesh
Director: Tharun Kishore Sudhir
Music Director: V Harikrishna
DOP: Sudhakar S Raj
Editor: K M Prakash
Story & Screenplay : Tharun Kishore Sudhir and Jadeshaa K Hampi
Production Designer: Guna
Dialogue Writer : Maasthi
Motion Graphics Designer : Gowtham Raj (Single Frame Studio)
Still Photographer : AJ Shetty
Poster Designer : Kaani Studio
Manager: Narasimha Jalahalli
Direction Team : Punith Arya, Shiva Kumar SB, M M Shrikantha, Mahesh Raj, Prashanth Mysore, Ganesh S Vali, Chandrakumar, Prateek Shastri
Music Credits of First Look
Lyrics : Dr. V. Nagendra Prasad
Female voice – S Sunitha
Keyboard and Rhythm – V Sukumar
Additional programming – Chaitanya
Male harmony – Hrushikesh BR, Vishak Nagalapura, Narahari Achar, Madhwesh Bharadwaj
Saz , Oud, Bouzouki, Acoustic Guitar, Banjo, Ukelele
Pipa – Subani and Babu
Nadaswaram – Padmanathan
Orchestra Incharge – L V Sudhakar
Recorded at Symphony Studios
Engineer – Shaktivel
SBeats audio
Engineer – Navaneeth
Sound Mix Engineer : Kannan Ganapat
SFX : Pradeep G
Business Head : CV Rao
Studio : Annapurna Sound & Visuals ( Hyderabad)
Comments
comments