September 10, 2017
Kanasalli Bandare Lyrics
Kanasalli Bandare Lyrics: Kanasalli Bandare is a song from an upcoming 2017 Kannada movie Raja Loves Radhe, written and directed by Rajashekhar. Raja Loves Radhe features Vijay Raghavendra, Radhika Preeti, Shubha Poonja, Ravi Shankar, Tabla Nani, Sunil, Shobharaj, Bhavya and others. C Music-A is the music label of this movie. This song was composed by Veer Samarth with lyrics written by V. Nagendra Prasad. Kanasalli Bandare was rendered by Indu Nagaraj.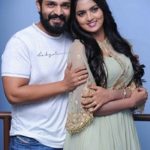 Kanasalli Bandare Lyrics
Movie: Raja Loves Radhe [2017]
Music Label: C Music-A
Music: Veer Samarth
Lyrics: V. Nagendra Prasad
Singer: Indu Nagaraj
Check out the lyrics here..
Kanasalli Bandre Naanu Heli Swamy Eshtu Kodthira Kodthira
Haan Mai Kaiyyi Soki Bitre Heli Swamy Extra Kodthira Kodthira
Rasikara Addadalli Onchuru Bandogri Antha Neev Kareda Mele Bandaaythu Ee Buguri
Gira Gira Gira Gira Suththo Gini Nee Sara Sara Sarasake Baare Mani
Jana Jana Jana Jana Namma Money Ninge Mana Mana Koduthivi Kanya Mani
Udugeya Olagiro Hrudaya Udugore Koduvenu Thago Kuvara
Kanasalli Bandre Naanu Heli Swamy Eshtu Kodthira Kodthira
Haan Mai Kaiyyi Soki Bitre Heli Swamy Extra Kodthira Kodthira
Currentige Sikka Kaage Kaavn Kaavn Anno Haage
Sikkakandre Nanna Kaige Neevella
Tholannu Kathriyalli Seragina Chatriyalli
Anisuve Raathriyella Olaala
Bisiyaada Rasapaakana Biduthivi Baa Baa Maina
Gellu Nee Nammanna Naave Ninge Bahumaana
Heldange Kelthinrappa En Kodtheera
Kanasalli Bandre Naanu Heli Swamy Eshtu Kodtheera Kodtheera
Haan Mai Kaiyyi Soki Bitre Heli Swamy Extra Kodtheera Kodtheera
Idonthara Hifi Phoneu Nibaaysodu Kashta Neenu
Bega Bidu Gaadiyannu Hoyy Raama
Enthentha Aatanella Suththiruve Goththa Nalla
Naanendu Hodallella Hangaama
Kododella Kodthivi Free Siteu Bar Kodthivi
Enu Bhaya Padaeda Naave Jothege Irthivi
Nannanne Nimage Kotre Enu Kodtheera
Kanasalli Bandre Naanu Heli Swamy Aa Aa Kodthira Kodthira
Haan Mai Kaiyyi Soki Bitre Heli Swamy Extra Kodthira Kodthira
Raja Loves Radhe Songs
Sobagu Sobagu
One Day Morning
Kanasalli Bandare
Nooru Galli
Save
Comments
comments