October 30, 2018
Kannada Nadina Jeevanadi Song Lyrics | Jeevanadi
Kannada Nadina Jeevanadi Song Lyrics | Jeevanadi: Kannada Nadina Jeevanadi is a famous Kannada song from the 1996 movie Jeevanadi, composed by Koti and the lyrics by well known Kannada lyricist R. N. Jayagopal. This film was directed by D. Rajendra Babu and produced by P. Dhanraj under the banner Sri Dhanalakshmi Creations.
Jeevanadi features Vishnuvardhan, Ananth Nag, Kushboo, Urvashi, Thara, Shivaram, Doddanna, Umashree, Srinivasamurthy, Vijayasarathi, R. N. Jayagopal, Bank Janardhan, Kishori Ballal, Seetharam, Nanjundaiah, M S Karanth and others.  Jhankar Music is the music label of this movie. Kannada Nadina Jeevanadi Song was beautifully rendered by singer S. P. Balasubrahmanyam.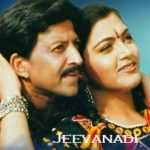 Kannada Nadina Jeevanadi Lyrics
Movie: Jeevanadi [1996]
Music Label: Jhankar Music
Music by: Koti
Lyrics by: R. N. Jayagopal
Singer: S. P. Balasubrahmanyam
Check out the lyrics here..
Gangeya Thungeya Preethiya Sodari Pavane Punya Nadhi
Balukutha Kulukutha Harushava Chellutha Saaguva Dhanya Nadhi
Tha Hejjeya Ittede Amrutha Harisi Kaayuva Bhagya Nadhi
Kannada Naadina Jeevanadi Ee Kaveri
Ooo Jeevanadi Ee Kaaveri
Annava Needuva Devanadi Ee Vayyari
Ooo Devanadi Ee Vayyari
Ee Thayiyu Nakkare Santhoshada Sakkare
Mamatheya Maathege Bhagyada Dhathege
Maaduve Bhakthiya Vandane
Kannada Naadina Jeevanadi Ee Kaveri
Ooo Jeevanadi Ee Kaveri
Kodagali Nee Hutti Hariyuve Nalivinda
Tharuthali Ellellu Aananda
Hasirina Bele Thandu Kudiyuva Jala Thandu
Chelluve Nage Emba Shrigandha
Dhumukutha Vegada Jalapaathadali Vidyuth Needuve
Bayalali Kaadali Kalakala Hariyutha Natyava Maaduve
Mandagaamini Shanthivaahini
Chira Nuthana Chethana Dhatheyu Neene Dakshina Mandakini
Kannada Naadina Jeevanadi Ee Kaveri
Ooo Jeevanadi Ee Kaaveri
Huttuva Kadeyondu Phala Kodo Yondu Sagaradali Nadigendu Sangamavu
Thavrina Maneyondu Gandana Maneyondu Hennige Ide Yendu Jeevanavu
Thandeyu Thaayiyu Annanu Thangiyu Ella Dooravu
Hosa Mane Hosa Jana Hosa Hosa Bandhavu Alle Santhoshavu
Maneya Deepavu Baala Sangeethavu
Mana Mechchida Madadiyu Sikkida Vale Swarga Samsaravu
Kannada Naadina Jeevanadi Ee Kaveri
Ooo Jeevanadi Ee Kaaveri
Annava Needuva Devanadi Ee Vayyari
Ooo Devanadi Ee Vayyari
Ee Thayiyu Nakkare Santhoshada Sakkare
Mamatheya Maathege Bhagyada Dhathege
Maaduve Bhakthiya Vandane
Kannada Naadina Jeevanadi Ee Kaveri Ooo Jeevanadi Ee Kaveri
Comments
comments