October 26, 2018
Kannadave Nammamma Avalige Song Lyrics | Mojugara Sogasugara
Kannadave Nammamma Avalige Song Lyrics | Mojugara Sogasugara: Kannadave Nammamma Avalige Kai Mugiyamma is a evergreen Kannada hit song from the Kannada movie Mojugara Sogasugara released in 1995. The film was written and directed by Vijay. The film was produced by N. Kumar under the banner Sri Lakshmi Films. This film was a remake of the 1964 Telugu film Ramudu Bheemudu starring legendary N. T Ramarao.
Mojugara Sogasugara features Dr. Vishnuvardhan in his 150th film along with Shruthi, Sonakshi, Lokesh, Doddanna, Jayanthi, Pandaribai, Tennis Krishna, Sathyabhama, Keerthi, Rajanand, Shivaram, Sihikahi Chandru, Dingri Nagaraj, Sathyajit, Kunigal Vasanth, Ramamurthy, Baby Ranjitha and others.
Kannadave Nammamma Avalige Kai Mugiyamma song was written and composed by famous music director Hamsalekha. This song was soulfully rendered by Sahasa Simha Vishnuvardhan. This song is one of the top rated Kannada patriotic songs, which can be heard everywhere during Kannada Rajyothsava season in Karnataka.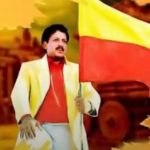 Kannadave Nammamma Avalige Lyrics
Movie: Mojugara Sogasugara [1995]
Record Label: Lahari Music
Music by: Hamsalekha
Lyrics by: Hamsalekha
Singer: Vishnuvardhan
Check out the lyrics here..
Kannadada Sidda
Haadodakke Yedda
Kannadakke Ivanu
Saayodakku Sidda
Kannadave Namamma
Avalige Kai Mugiyamma
Maathaado Devarivalu
Namma Kaapadao Guru Ivalu
Kannadave Namamma
Avalige Kai Mugiyamma
Nalidaado Neerivalu
Naa Usiraado Kaadivalu
Bareyora Thavarooru
Kadeyora Hiriyooru
Natisora Navilooru
Nudisora Mysooru
Koogidare.. Kaanuvudu..
Yede Thumba.. Haadaguvudu
Madhura Madhura Idu Amara Madhura Idu
Kannadave Namamma
Avalige Kai Mugiyamma
Nalidaado Neerivalu
Naa Usiraado Kaadivalu
Ee Baashe Kaliyodu
Bennena Thindanthe
Namma Baashe Bareyoke
Kalisore Bedanthe
Haadidare Thiliyuvudu..
Mai Thumba Oodaaduvudu
Sarala Sarala Idu Virala Virala Idu
Kannadave Namamma Avalige Kai Mugiyamma
Maathado Devarivalu Namma Kaapaado Guru Ivalu
Abhimaana Haalanthe
Dhurabimaana Vishavanthe
Sahisoru Naavanthe
Nirabhimaana Bedanthe
Kannadathi Aagne Idu..
Avaledeya Haadu Idu
Avala Bayake Idu Namage Harake Idu
Kannadave Namamma Avalige Kai Mugiyamma
Maathado Devarivalu Namma Kaapaaado Guru Ivalu
Kannadave Namamma Avalige Kai Mugiyamma
Nalidaado Neerivalu Naa Usiraado Kaadivalu
Siddhavo Siddhvo Kannadakke Saayalu
Siddhava Baddhavo Kannadakke Baalalu
Mojugara Sogasugara [1995] Movie Songs List
Song: Yaramma Ivalu
Lyrics: Hamsalekha
Singers: Mano, Manjula Gururaj
Song: Hoovamma Hoovamma
Lyrics: Hamsalekha
Singers: Mano, Lata Hamsalekha
Song: Mojugarana Sogasugarana
Lyrics: Hamsalekha
Singers: Mano, Manjula Gururaj
Song: Kannadave Nammamma
Lyrics: Hamsalekha
Singer: Vishnuvardhan
Song: Chorarigondu Kaala
Lyrics: Hamsalekha
Singer: Mano
Comments
comments