April 1, 2018
Kaveriya Dande Song Lyrics
Kaveriya Dande Song Lyrics: Kaveriya Dande is a song from the 1990 Kannada movie Nammoora Hammeera, directed by Peraala and written by Vijaya Bapineedu. The film was produced by B H Bucchi Reddy under the banner of M J Art Picture. Nammoora Hammeera features Ambareesh, Suman Ranganathan, Devaraj, Mukhyamantri Chandru, Umashree, Dinesh, C R Simha, Sathyajith, Hemanth Kumar, Disco Shanthi, Sadashiva Brahmavar, Janardhan, Shani Mahadevappa, Jayashree, Sathyabhama, Latha and others.
This movie is a remake of 1988 Telugu film Khaidi No.786, starring Chiranjeevi. Lahari Music was the music label of this movie. This song was written and composed by Hamsalekha. Kaveriya Dande song was rendered by Manjula Gururaj.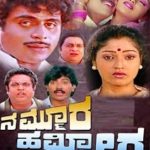 Kaveriya Dande Lyrics
Music Label: Lahari Music
Movie: Nammoora Hammeera [1990]
Music: Hamsalekha
Singers: Manjula Gururaj
Lyrics: Hamsalekha
Check out the lyrics here..
Neerin Soppu Dantin Soppu Menthe Soppu
Kere Meenu Haavu Meenu Seegadi Meenu
Kaveriya Dande Yeradaago Dinneli
Kaadaaneya Kombu Thoogaado Bangle Li
Haay Ranga Hoy Ranga Baa Sari Baa
Haay Ranga Hoy Rangaaa
Kaaveriya Dande Yeradaago Dinneli
Kaadaaneya Kombu Thoogaado Bangle Li
Neerin Soppu Dantin Soppu Menthe Soppu
Kere Meenu Haavu Meenu Seegadi Meenu
Bangaarda Meenige Meenaakshiya Koogige
Kalegaararu Bandaru Balegaararu Nintharo
Baleya Beesi Kaadaro
Vayyarada Meenige Eejaaduva Jorige
Kadale Puri Suridare Thuti Saarisi Karedaro
Hulada Gaala Yesedaro
Duduki Naanu Baayi Thegede Babamm
Hulada Gaala Baayge Bithtu Gulumm
Naanu Thoda Gaala Yelede Babam
Dadada Dandu Nadige Biththu Dhudum
Eejidaru Aa Janaru Nooru Bale Beesidaru
Sthreepathige Maaridaru
Kaveriya Dande Yeradaago Dinneli
Kaadaaneya Kombu Thoogaado Bangle Li
Haay Ranga Hoy Ranga Baa Sari Baa
Haay Ranga Hoy Rangaaa
Seegadi Baangadi, Baangadi Seegadi |2|
Neerin Soppu Dantin Soppu Menthe Soppu
Kere Meenu Haavu Meenu Seegadi Meenu
Kaligaalada Meenidu Hybreedina Group Idu
Bari Bhoomilu Saayadu Nadi Neeranu Keladu
Sulabhavaagi Beyadu
Chaligaalada Meenidu High Grade-Ina Type Idu
Paramathmanu Seviso Maharaajaru Poojiso
Side-U Disshu Fish Idu
Brandy Heeruvaaga Ghaatu Babamm
Jothege Meenu Nenchikonde Gulum
Brandi Benki Meenu Khaara Babam
Eradu Seri Madana Kaama Japam
Aakaliso Saambha Shiva
Thookadike Beda Shiva
Yelu Shiva Kelu Shiva
Kaaveriya Dande Yeradaago Dinneli
Kaadaaneya Kombu Thoogaado Bangle Li
Haay Ranga Hoy Ranga Baa Sari Baa
Haay Ranga Hoy Rangaaa
Nammoora Hammeera Songs Lyrics
Kogile O Kogile Yaavura
Aaseyu Munde Munde
Ammamma Gumma
Gaali Gaali Nammoora
Kaveriya Dande
Comments
comments