May 23, 2018
Kogile Pada Jaanapada Lyrics | Srigandha
Kogile Pada Jaanapada Lyrics | Srigandha: Kogile Pada Jaanapada is a famous song from the 1995 Kannada movie Srigandha [Shrigandha], directed by P. H. Vishwanath written with Neernalli Raju. The film was produced by Sampath Kumar under the banner Sri Varaha Creations.
Srigandha features Ramesh Aravind, Sudharani, Srinath, Sushma, B. V. Radha, Kashi and others. Akash Audio is the music label of this movie. This song was written and composed by Nadabrahma Hamsalekha. Kogile Pada Jaanapada song was rendered by renowned playback singers Mano and S. Janaki.
P. H. Vishwanath is one of the well known director in Kannada cini industry. He made some remarkable movies. He started his film career as an assistant director to Puttanna Kanagal in the 1979 film Dharmasere. He made his directorial debut with the path breaking 1990 Kannada movie Panchama Veda starring Ramesh Aravind and Sudharani in the lead. some of his most memorable work includes Panchama Veda (1990), Munjaneya Manju (1993), Srigandha (1995), Aragini (1995), Rangoli (1996), Andaman (1998) and others.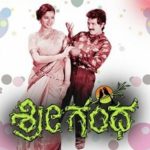 Kogile Pada Jaanapada Lyrics
Movie: Srigandha [1995]
Music Label: Akash Audio
Music: Hamsalekha
Singers: Mano, S. Janaki
Lyrics: Hamsalekha
Check out the lyrics here..
Lalalalala .. Oh.. Lalalalala .. Oh..
Dheemthananana Dheemthananana
Kogile Pada Jaanapada Dheemthananana
Preyasi Pada Premapada Dheemthananana
Kogile Pada Jaanapada Dheemthananana
Premiya Pada Ghanasudha Dheemthananana
Haadige Praana Pallavi.. Oh
Maathige Mouna Pallavi.. Oh
Premake Kannu Pallavi.. Oh
Baalige Hennu Pallavi.. Oh
Hrudayaveeneya Jeevathanthiya
Shuddha Shruthiya Madhura Naadake
Hennu Panchama Gandu Shatchama
Aadarene Raga Maalike
Sarigamada Swaragalige
Olavina Ee Aadhara
Thakadimithom Jathigalige
Chandinade Shrungaara
Haadige Praana Pallavi.. Oh
Maathige Mouna Pallavi..
Premake Kannu Pallavi.. Oh
Baalige Hennu Pallavi
Kogile Pada Jaanapada Dheemthananana
Premiya Pada Ghanasudha Dheemthananana
Kogile Pada Jaanapada Dheemthananana
Preyasi Pada Premapada Dheemthananana
Sindhu Bhairavi Hamsa Nandhini Mohandali Kamavardhini..
Varaharapriya Shanmukha Priya Ranjaniyali Raaga Raagni
Dhamanigala Ghamakagale Pranayigala Aalapa
Adharagala Palukugale Premigala Sallaapa
Haadige Praana Pallavi.. Oh
Maathige Mouna Pallavi..ee
Premake Kannu Pallavi.. ee
Baalige Hennu Pallavi
Kogile Pada Jaanapada Dheemthananana
Preyasi Pada Premapada Dheemthananana
Kogile Pada Jaanapada Dheemthananana
Premiya Pada Ghanasudha Dheemthananana Dheem
Srigandha Kannada Songs Lyrics
Ondu Anuraagada Kavya
Kayisuva Hudugiyara
Kogile Pada Jaanapada
O Andaramma Andaru
Sister Sister
Comments
comments