March 1, 2018
Lokana Nammange Lyrics
Lokana Nammange Lyrics: Lokana Nammange is a song from an upcoming 2018 Kannada movie Krishna Tulasi, directed by Sukesh Nayak. The film was produced by M. Narayanaswamy under the banner Annapoorneshwari Cine Creations. The movie f
eatures National Awars winning Actor Sanchari Vijay, Megha Sri, Tabala Naani, Kuri Prathap and others. Pace Digital Music is the music label of this movie and Aananda Audio Video is in-charge of marketing.
This song was composed by Kiran Ravindranath with lyrics penned by Yogaraj Bhat. Yeno Hosa Nantu song was rendered by Tippu. This song speaks about the difference between people with sight and people without sight. How people without sight sees life that people with sight can never see. A typical Yogaraj Bhat lyrics. who can sing Bhat song better than Tippu.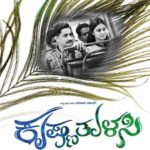 Lokana Nammange Lyrics
Movie: Krishna Tulasi [2018]
Music Label: Pace Digital Music
Music: Kiran Ravindranath
Lyrics: Yogaraj Bhat
Singer: Tippu
Check out the lyrics here..
Lokana Nammange Nodoru Yarilla
Naavella Nododu Nimagyaargu Kaanalla
Olagannu Therkondoru Naavugalu..
Kanniddu Kurudaru Swami Neevugalu
Namma Kannalle Avne Devaru..
Adake Haakandvi Kanna Baagilu
Challenge Appa Nimge
Hatthe Ahtthe Nimisha
Dhammu Idre Nammangiri
Olagannu Therkondoru Naavugalu
Kanniddu Kurudaru Swami Neevugalu..
Bannada Loka Nimmadu
Black Andu Whiteu Nammadu
Nimdella Gillittu
Namdu Originallu
Sparshane Nambkondavru Naavugalu..
Muttokke Hedaroruppa Neevugalu
Daarina Nammange Dhaatoru Yarilla
Apaghatha Maadoke Hutdoru Neevella
Haa Nammanne Naavu Hudukalu
Bekaage Illa Kangalu
Simple-u Vedantha
Nimagartha Aagalla
Yaakandre Nimgella Kivi Iddu Kelalla
Sageetha Haadorappa Naavugalu
Tension-ge Hutdorappa Neevugalu
Challenge Appa Nimge
Hatthe Ahtthe Nimisha
Dhammu Idre Nammangiri
Neevyaaru Nijawaglu Badukiddu Badukilla
Baayige Man Haaka Ee Haadu Nimagalla
Comments
comments