July 3, 2017
Maanavanaaguveya Lyrics
Maanavanaaguveya Lyrics: Maanavanaaguveya is a super hit song from the 1976 Kannada film Bahaddur Gandu, directed by A. V. Sheshagiri Rao. Bahaddur Gandu features Rajkumar, Jayanthi, Aarathi,Balakrishna, Vajramuni, Dwarakish and others. This film was was inspired from 1952 Hindi film Aan starring Dilip Kumar. Saregama is the music label of this movie. This song was composed by M. Ranga Rao with lyrics penned by Chi. Udaya Shankar. Maanavanaaguveya was rendered by Rajkumar.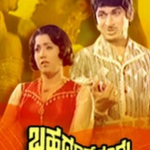 Maanavanaaguveya Lyrics
Album: Bahaddur Gandu [1976]
Music Label: Saregama
Music: M. Ranga Rao
Lyrics: Chi. Udaya Shankar
Singer: Rajkumar
Check out the lyrics here..
Maanavanaaguveya Illa Daanavanaaguveya
Nee Maanava Kulake Mullaaguveya
Maanavanaaguveya Illa Daanavanaaguveya
Nee Maanava Kulake Mullaaguveya
Helu Nee Helu
Helu Nee Helu
Ella Gungalu Ninnale Adagi Kaalaga Maaduthive
Ella Gungalu Ninnale Adagi Kaalaga Maaduthive
Mana Tumbiruva Shaanthiya Nungi Kuniyalu Noduthive
Roshava Biduveya Dweshava Mareveya
Roshava Biduveya Dweshava Mareveya
Rakkasana Visha Gaaliya Nungade Baduki Ellara Ulisuveya
Baduki Ellara Ulisuveya
Maanavanaaguveya Illa Daanavanaaguveya
Nee Maanava Kulake Mullaaguveya
Helu Nee Helu
Helu Nee Helu
Dhanakanakagala Keluvudilla Snehada Havyaasa
Dhanakanakagala Keluvudilla Snehada Havyaasa
Ninnabhimaanava Kenakuvudilla Premada Santosha
Andada Thutiyali Husinage Thelali
Andada Thutiyali Husinage Thelali
Akkare Nudiya Sakkare Ruchiya Needi Ellara Gelluveya
Neenu Ellara Gelluveya
Maanavanaaguveya Illa Daanavanaaguveya
Nee Maanava Kulake Mullaaguveya
Helu Nee Helu
Helu Nee Helu
Hmm Hmm
Bahaddur Gandu Songs
Maanavanaaguveya
Muthinantha Mathondu
Hey Ninagagiye
Alle Nillu
Gandu Endare Gandu
Save
Save
Save
Comments
comments