March 18, 2018
Malenadina Minchina Balli Song Lyrics
Malenadina Minchina Balli Song Lyrics: Malenadina Minchina Balli is a song from the 1996 Kannada film Thavarina Thottilu, directed by S. Narayan and written by Ajay Kumar. The film was produced by Smt Bhagyavathi under the banner Shanthala Pictures. Thavarina Thottilu features Ramkumar, Charan Raj, Shruti, Srinivasa Murthy, Doddanna, Ashalatha, Rajanand, Padma Vasanthi, B. Jayamma, Dr Suresh Sharma, Goutham, Kavana and others. The film was remade into Tamil as Annan Thangachi directed by Charanraj.
Jhankar Music is the music label of this movie. This song was composed by Rajesh Ramanath with lyrics penned by S. Narayan himself. Malenadina Minchina Balli Song was rendered by singers S. P. Balasubrahmanyam and K. S. Chithra.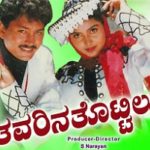 Malenadina Minchina Balli Lyrics
Movie: Thavarina Thottilu [1996]
Music Label: Jhankar Music
Music: Rajesh Ramanath
Lyrics: S. Narayan
Singers: S. P. Balasubrahmanyam, K. S. Chithra
Check out the lyrics here..
Malenaadina Minchina Balli
Sahyaadriya Sangamadalli
Hosathana Thoridalu Jogada Siriyavalu
Hosathana Thoridalu Jogada Siriyavalu
Malenaadina Minchina Balli
Sahyaadriya Sangamadalli
Cheluvana Varisidalu Olavanu Surisidalu
Cheluvana Varisidalu Olavanu Surisidalu
Hoova Dindinali Maava Malagiruve
Jadeya Kuchchinali Odeya Neeniruve
Ooo Bedagiye Nerigeya Nodu
Ee Rasikana Pranayada Goodu
Naachike Thandavane Kaamana Kannavane
Manmatha Kuladavane Bhimana Alimayane
Malenaadina Minchina Balli
Sahyaadriya Sangamadalli
Kanna Reppeyalee Ninna Muchchiduve
Jeeva Bhuththiyali Dinavu Thuththiduve
Oo Sundara Kanasina Kannadi
Nee Baredeya Adarali Munnudi
Mallige Mogadavale Muththina Nageyavale
Jolada Theneyavale Jogada Siriyavale
Malenaadina Minchina Balli
Sahyaadriya Sangamadalli
Hosathana Thoridalu Jogada Siriyavalu
Cheluvana Varisidalu Olavanu Surisidalu
Thavarina Thottilu Song
O Kusumave
Arishina Kuttiravva
Malenadina Minchina Balli
O Bombeye Dalimbeye
Brahma Bareda Haaleyalli
Baaradu Barabaaradu
Comments
comments