October 24, 2017
Marali Marali Lyrics
Marali Marali Lyrics: Marali Marali is a song from an upcoming 2017 Kannada movie College Kumar, directed by Alemaari Santhu. College Kumar features Vicky [Kendasampige fame], Samyuktha Hegde [Kirik Party fame], Ravishankar, Shruthi, Sadhu Kokila and others. Jhankar Music is the music label of this movie. This song was composed by Arjun Janya with lyrics penned by Hari Santosh.  Marali Marali was rendered by Sanchith Hegde.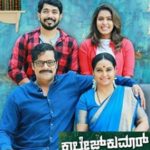 Marali Marali Lyrics
Movie: College Kumar [2017]
Music Label: Jhankar Music
Music: Arjun Janya
Lyrics: Hari Santosh
Singer: Sanchith Hegde
Check out the lyrics here..
Marali Marali Yatnava
Maadu Neenu Maanava
Yariguntu Yaarigilla Ee Offer
Watchu Ulta Od'thide
Innu Solpa Time Ide
Ellareduru Aagabeda Nee Joker
Chilledu Beer-Ur Kudithidde
Bidu Eega Yochane
Bike-Ku Wheelingu Maduthidde
Eega Luna Bandide
Bad Time Andre Idena Thande
College Kumara Life-Fu Damara
College Kumara Life-Fu Damara
Marali Marali Yatnava
Maadu Neenu Maanava
Yariguntu Yaarigilla Ee Offer
Ondkade Mane Problem Ondkade Love-Vu Breakup
Lifenali Yaakingaaytho Naanu Thale Chachkonde
Gaadili Petrol Illa Pursenali Paisa Illa
Amboo Antha Naanu Roadnal Bandu Kuthkonde
Classu Bunku Bunku Maadthane Ella Marithina
Day And Nightu Onde Tensionnu Paasu Agthina
Olle Time-u Kooda Ketta Time-Nal Bandide
Lifenali U-Turn Thagondu Bande
College Kumara Life-Fu Damara
College Kumara Life-Fu Damara
Ondkade Anna Sambar Ondkade Pizza Burger
Lifenali Enen Missu Ella Maththe Padkonde
Ondkade Saree Border Ondkade Chudi Salwar
Ella Hosa Mater-Ru Naanu Sumne Nodkonde
Ondu Maathu Kotta Thappige Beedig Bande Naa
Ninnne Monne Ella Superru Indu Chitranna
I Love You God-Du Maththe Life Sikkede
Enjoy Maadok Vayassen Thande
College Kumara Life-Fu Damara
College Kumara Life-Fu Damara
Marali Marali Yatnava
Maadu Neenu Maanava
Yariguntu Yaarigilla Ee Offer
College Kumar Songs
Naavu Last Bench
Marali Marali
Hasi Bisi
Nanna Kuse
Save
Comments
comments