November 20, 2017
Matte Matte Nenapu
Matte Matte Nenapu Lyrics: Matte Matte Nenapu is a song from an upcoming Kannada movie Kanaka, directed by R. Chandru and produced by R.C.Movies. Kanaka features Duniya Vijay, Manvitha, Haripriya and others. Aananda Audio is the music label of this movie. This song was composed by Naveen Sajju with lyrics penned by Hrudaya Shiva. Matte Matte Nenapu was rendered by Chethan Naik.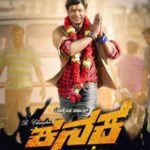 Matte Matte Nenapu Lyrics
Movie: Kanaka [2017]
Music Label: Aananda Audio
Music: Naveen Sajju
Lyrics: Hrudaya Shiva
Singer: Chethan Naik
Check out the lyrics here..
Matte Matte Nenapu Kaadide Bittu Bidade Jeeva Hindide
Katta Kadege Ade Daariyali Payana Saagide
Konege
Heththavara Nenapu Kaadide Matte Matte Koogi Karedide
Muththu Kotta Putta Hudugiya Nenapu Moodide
Nanage
Chitteya Hidida Nenapu Jokali Aadida Nenapu
Kambani Oresida Nenapu Saanthwana Helida Nenapu
Yaako Nannedeyanindu Iriyuthide
Yaako Kannali Haniya Tharisuthide
Eega Elliddaalo Hegiddalo Nanna Paalina Devathe
Matte Matte Nenapu Kaadide Bittu Bidade Jeeva Hindide
Naanu Huttida Aa Mane Naanu Beleda Angala
Naanu Aadida Holedande Eega Hegideyo
Dina Baiyuthidda Nannappa Thuththu Thinisida Nannavva
Onde Ede Haalu Kudida Thammayya Hegihano
Yako Ella Nenapaguthide Haleya Puta Punaha Theredide
Ellinda Aarambhano Jeevana Hey Ellinda Aarambhano Jeevana
Maththalle Adara Nildaana
Matte Matte Nenapu Kaadide Bittu Bidade Jeeva Hindide
Nammoora Daari Maragalu Nammoora Kere Yeriyu
Nanna Guruthanu Indu Hidiyabahude
Nammoora Kempu Bili Bussige Naa Kooruthidda Kone Seatige
Nanna Nenapu Innu Irabahude
Naanu Avalu Suththida Jaaga Nenapige Baruthide Eega
Ellinda Aarambhano Jeevana Hey Ellinda Aarambhano Jeevana
Maththalle Adara Nildaana
Matte Matte Nenapu Kaadide Bittu Bidade Jeeva Hindide
Katta Kadege Ade Daariyali Payana Saagide
Konege
Konege Konege Konege
Comments
comments