March 2, 2018
Mele Chandrana Lyrics
Mele Chandrana Lyrics: Mele Chandrana is a song from the 2001 Kannada movie Vaalee [Vaali], directed by S. Mahendar. The film was produced by Ramesh Yadav under the banner Royal Pictures. Vaalee features Sudeep, Poonam Singar, Sadhu Kokila, Gurukiran, Bank Janardhan, Shanthammma, K S Sridhar, Michel Madhu, Ramanand, Mimicry Rajgopal, Danial, Vijayasarathi and others. This film was a remake of Tamil movie Vaali starring Ajith and Simran.
Anand Audio is the music label of this movie.This song was composed by Rajesh Ramanath with lyrics penned by K. Kalyan. Mele Chandrana was rendered by Rajesh and Anuradha Sriram.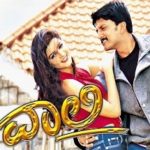 Mele Chandrana Lyrics
Movie: Vaali [2001]
Music Label: Anand Audio
Music: Rajesh Ramanath
Lyrics: K. Kalyan
Singers: Anuradha Sriram, Rajesh
Check out the lyrics here..
Mai Sothide Bisi Yeride
Ninna Notake Manasu Kalakide
Nooraaru Henngalu Nanna
Suththa Bandaroo Yede Hoththi
Urisidavalu Neenobbale Kane
Mele Chandrana Thampide
Olage Sooryana Uri Ide
Maathillade Hege Maathaaduve
Nee Anda Koodale Anda Kai Seradu
Mele Chandrana Thampide
Olage Sooryana Uri Ide
Maathadiso Mantha Ninnallide
Naa Andukondare Aralo Preethi Ide
Manju Haniyella Hariyo Neeraagadu
Ukko Ukko Kadalu Nannodalu Eejaadu Baa
Kannu Kukko Mugilu Mai Mugilu Thelaadu Baa Baabaa
Ninna Kaade Naanaade Naanu
Minchige Thaakida Meenaade Naanu
Modakku Shuruvaaythu Baayaarike
Naanyaaru Antha Nee Kelalilla
Modadu Oora Beru Kelolla
Aa Guruthugalu Beekaagilla
Andu Mincha Meenanthe Ninna Kanna Kukkide
Bandu Hogo Daariyali Hoovondu Beeside
Ondu Hoova Sparshake Naa Bhoodiyaaguve
Innu Ninna Sparshake Naanelli Hoguve
Mele Chandrana Thampide
Olage Sooryana Uri Ide
Maathillade Hege Maathaaduve
Nee Anda Koodale Anda Kai Seradu
Vaalee Kannada Songs Lyrics
O Sona O Sona
Vasantha Maasadalli
Chandirana Hididu
Mele Chandrana
Dil Meri Dil
Comments
comments