September 3, 2018
Mina Mina Sooryana Kirana | Ratnamanjarii
Mina Mina Sooryana Kirana | Ratnamanjarii: Mina Mina Sooryana Kirana is a Kannada song from an upcoming 2018 Kannada movie Ratnamanjarii. This song was composed by Harshavardhan Raj. The lyrics of this song was written by noted Kannada lyricist K. Kalyan. Mina Mina Sooryana Kirana song was rendered by actor Puneeth Rajkumar.
Ratnamanjarii features Raj Charan, Akhila Prakashas in the lead along with other actors. This film was directed by Prasiddh. Ratnamanjarii was produced by Nataraj Halebeedu and S. Sandeep Kumar under the banner SNS Cinemaas USA and Sharavathi Filmss.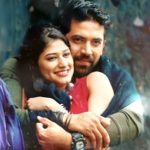 Mina Mina Sooryana Kirana Lyrics
Film: Ratnamanjarii
Music: Harshavardhan Raj
Record Label: Aananda Audio Video
Lyrics: K. Kalyan
Singer: Puneeth Rajkumar
Check out the lyrics here..
Mina Mina Sooryana Kirana
Yeniside Ibbani
Arebare Betthale Hoovige
Gaaliya Tippani
Chitapata Hanigala Danigale
Mannina Laavani
Thale Kelagaadare Baanige
Bhoomiya Chaavani
Abyaasavaagide Ibbara Hrudayake
Ullasa Ravaanisona Ee Jagakke
Ninna Preethiye Ninna Preethiye
Hummassu Ee Jeevake
Mina Mina Sooryana Kirana
Yeniside Ibbani
Arebare Betthale Hoovige
Gaaliya Tippani
Chitapata Hanigala Danigale
Mannina Laavani
Thale Kelagaadare Baanige
Bhoomiya Chaavani
Aakashadalli Haadu Ulime Maadu
Nakshatra Bittidavara Naavugalu
Kaamanabillu Hididhu Neygeya Maadi
Belakaagi Banna Kotta Naave Premigalu
Prakruthi Embude Preethiya Bahumathi
Ellakku Illi Sahamathi
Untu Yeke Anumathi
Mina Mina Sooryana Kirana
Yeniside Ibbani
Arebare Betthale Hoovige
Gaaliya Tippani
Chitapata Hanigala Danigale
Mannina Laavani
Thale Kelagaadare Baanige
Bhoomiya Chaavani
Ee Ninna Soundarya Vashapadisalu
Sandarbha Sikkale Illa Iduvaregu
Adu Yaava Deshana Saripadisalu
Nee Chelli Chelli Hoguthiruve Mugulanagu
Elleya Meerali Preethiso Paddathi
Preethi Horathaagi Ulidavvellakku Eegale Raddathi
Mina Mina Sooryana Kirana
Yeniside Ibbani
Arebare Betthale Hoovige
Gaaliya Tippani
Chitapata Hanigala Danigale
Mannina Laavani
Thale Kelagaadare Baanige
Bhoomiya Chaavani
Abyaasavaagide Ibbara Hrudayake
Ullasa Ravaanisona Ee Jagakke
Ninna Preethiye Ninna Preethiye
Hummassu Ee Jeevake
Comments
comments