August 23, 2018
Modala Prema Patrave Song Lyrics | Chandramukhi Pranasakhi
Modala Prema Patrave Song Lyrics | Chandramukhi Pranasakhi: Modala Prema Patrave is a song from the 1999 Kannada movie Chandramukhi Pranasakhi, directed by Seetharam Karanth. The film was produced by N K Prakash Babu under the banner Shreematha Pictures.
Chandramukhi Pranasakhi features Ramesh Aravind, Prema, Bhavana, Srinivasa Murthy, Vaishali Kasaravalli, Akhila, Shivaram, B. V. Radha, Renukamma Murugod, Eshwari Kumari, Narayan, Mysore Ramanand, Mandeep Roy, Cheluvamurthy, Sudheer, Suresh Kumar, Sudarshan Gatti, K. K Gatti and others. Lahari Music is the music label of this movie. This songs was composed and written by K. Kalyan. Modala Prema Patrave Song was rendered by K. S. Chithra and S. P. Balasubramanyam.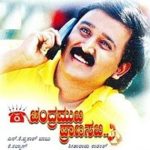 Modala Prema Patrave Lyrics
Movie: Chandramukhi Pranasakhi [1999]
Music Label: Lahari Music
Music: K. Kalyan
Lyrics: K. Kalyan
Singers: K. S. Chithra, S. P. Balasubramanyam
Check out the lyrics here..
Modala Prema Pathrave..
Hrudayagalige Sethuve..
Modala Pranaya Pathrave
Kanasugalige Sethuve
Thodala Premade Pari Idu
Yella Hudugaru Yella Hudugiyaru
Preethige Solade Iruvare..
Solade Preethiya Koduvare..
Onde Ondu Saari Ninna
Kanda Odane Marethe Nanna
Marethu Kooda Mareyalaare Na Ninna
Yeshtu Saari Nodidaru
Yeshtu Saari Haadidaru
Saveyadantha Saviya Koduve Na Ninna
Ide Modala Ola Ole Idu
Yedeya Thodala Kareyole Idu
Kai Hididu Kaapaadu
Ee Preethiyanna
Onde Ondu Saari Hennna
Kanda Odane Mareyo Ninna
Mecchi Necchikondare Na
Chenna
Yeshto Hudugeera Nodide Naa
Ninnaleno Hosa Seletha
Haaganinda Nannalleno Koretha
Yeshto Hudugara Ballenu Naa
Yella Helo Tollu Maathidu
Intha Sullu Pollu
Yellu Nadeyadu
E Nanna Maathinalli Sathyavilla Annodaadare
Hrudayana Omme Nodu Japavu Ninade
Neen Huttidaagininda Ninna Hrudaya Neene Kandilla
Kaanaddhu Geechidare Yaaru Namballa
Bari Akshara Illamma
Nanna Yedusirideyamma
E Usira Saalige Haale Neenamma
Haale Haribahudu
Naale Maribahudu
Ee Aagada Hogada Maagada Kaagada
Preethiya Kaayuva Moorkhalu Naanalla
Onde Ondu Saari Ninna
Kanda Odane Marethe Nanna
Marethu Kooda Mareyalaare Na Ninna
Yeshto Kavigalige Kaaleledu
Kaalu Tholeyo Preethi Anthiri
Amele Kai Tholedukondu Hogtiri
Nanna Padagalivu Padavalla
Nanna Yede Karaga Ivu
Olage Ninde Preethi Antharangavu
Yenendernu Preethi Kannu Kurudu Annodu Gaade
Bekilladiddarunu Bedutha Ide
Kannago Preethi Nambi
Ninna Kanna Ole Naanamma
Kururadarunu Nandu Nera Nadeyamma
Anda Hogaloru
Sambandha Hudukoru
E Preethi Annorella Huchcharu
Yaarene Andaru Nee Nanna Kondaru
Nin Preethiyonde Nanna Devaru
Thandanana Thana Na Na
Thandanana Thana Na Na
Marethu Kooda Mareyalaare Na Ninna
Yeshtu Saari Nodidaru
Yeshtu Saari Haadidaru
Saveyadantha Saviya Koduve Na Ninna
Chandramukhi Pranasakhi Songs
Nenapugala Maathu Madhura
Manase O Manase
Modala Prema Patrave
Chiguru Bombeye
Aralo Hunnime
El El Mallige
Ondu Prema Pallakkiya Mele
Chandramukhi Hoy
Comments
comments