November 20, 2017
Modalasari Lyrics
Modalasari Lyrics: Modalasari is a song from an upcoming Kannada movie Kanaka, directed by R. Chandru and produced by R.C.Movies. Kanaka features Duniya Vijay, Manvitha, Haripriya and others. Aananda Audio is the music label of this movie. This song was composed by Naveen Sajju with lyrics penned by Hrudaya Shiva. Modalasari was rendered by Gowrav Hari.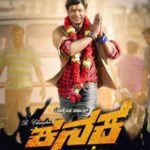 Modalasari Lyrics
Movie: Kanaka [2017]
Music Label: Aananda Audio
Music: Naveen Sajju
Lyrics: Hrudaya Shiva
Singer: Gowrav Hari
Check out the lyrics here..
Modalasari Ninnannu Nodida Aa Dinavu Yaavudu
Koneya Saari Helade Ulida Aa Maathu Yaavudu
Muddadida Dinagalu Kiththadida Kshanagalu
Kaddu Seebe Kaayina Kachchi Thinda Kshanagalu
Ninna Moggina Jadeyali Nanna Kanasu Aralithu
Kuntepille Aaduththa Kaddu Muchchi Nodiddu
Ella Illi Nange Nenapaayithalla Sumge
Nee Chennagidre Ashte Nange
Saakalva Saakalva Saakalva
Uruli Hoda Kaala Maththe Marali Baralva
Aralidantha Kanasugalige Jeeva Sigalva
Langa Daavani Gejje Saddu Nenapu Agalva
Schoolin Munde Nangoskara Kaayuththa Kooralva
Nenapinalle Badukabeku Naanu Ballenu
Gadiya Daati Baralebeda Kaiyyee Mugivenu
Mugidu Hoda Kathegalannu Kedakabaaradu
Maretha Haage Natisabeku Mareyakoodadu
Ella Illi Nange Nenapaayithalla Sumge
Nee Chennagidre Ashte Nange
Saakalva Saakalva Saakalva
Naavu Nadeda Kaalu Daari Taaru Kandilva
Namage Hodeda Ganitha Meshtru Retired Agilva
Naanu Kotta Navilugari Mari Haakilva
Neenu Bareda Prema Pathra Nanhathra Ilva
Heege Bandu Haage Hogu Daari Thiruvali
Nadedudella Ulidu Bidali Baala Putadali
Nenapu Konegu Jinugabeku Kanna Thudiyali
Yavudakku Runavu Beku Hanebarahadalli
Ella Illi Hinge Naa Ulkoldiro Hange
Nee Chennagidre Ashte Nange
Saakalva Saakalva Saakalva
Comments
comments