January 19, 2018
Mr and Mrs Ramachari Song Lyrics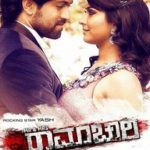 Mr and Mrs Ramachari Song Lyrics: Mr and Mrs Ramachari is a 2014 Kannada movie, written and directed by Santhosh Ananddram and produced by the duo Jayanna and Bhogendra under the banner Jayanna Combines. Mr and Mrs Ramachari features Yash, Radhika Pandit, Srinath, Achyuth Kumar, Malavika Avinash, Vishal Hegde, Ashok Sharma, Sadhu Kokila, Kaavya Sha, Aruna Balaraj, Srinivas Prabhu, Girish, Rockline Sudhakar, Sameer Dattani, Sangamesh Upase and others. Mr and Mrs Ramachari won multiple awards at the Filmfare Awards South and SIIMA Awards. It also turned out as Yash's fifth consecutive success. D-Beats was the music label of this movie.
All Songs were composed by V. Harikrishna with lyrics penned by Santhosh Ananddram, A. P. Arjun, Ghouse Peer and Yogaraj Bhat. Mr and Mrs Ramachari Songs were rendered by Ranjith, Tippu, Sonu Nigam, Shreya Ghoshal, Rajesh Krishnan and Yash.
Check out the lyrics here..
Yaaralli Sound-u Maadodu Lyrics
Movie: Mr and Mrs Ramachari [2014]
Music Label: D-Beats
Music: V. Harikrishna
Lyrics: Santhosh Ananddram
Singers: Ranjith
Mr And Mrs Raamachari Lyrics
Movie: Mr and Mrs Ramachari [2014]
Music Label: D-Beats
Music: V. Harikrishna
Lyrics: A. P. Arjun
Singers: Tippu
Upavaasa Ee Kannige Lyrics
Movie: Mr and Mrs Ramachari [2014]
Music Label: D-Beats
Music: V. Harikrishna
Lyrics: Ghouse Peer
Singers: Sonu Nigam, Shreya Ghoshal
Yenappa Sangathi Keli Lyrics
Movie: Mr and Mrs Ramachari [2014]
Music Label: D-Beats
Music: V. Harikrishna
Lyrics: Ghouse Peer
Singers: Tippu
Kaarmoda Saridu Belaku Surida Lyrics
Movie: Mr and Mrs Ramachari [2014]
Music Label: D-Beats
Music: V. Harikrishna
Lyrics: Ghouse Peer
Singers: Rajesh Krishnan
Annthamma Lyrics
Movie: Mr and Mrs Ramachari [2014]
Music Label: D-Beats
Music: V. Harikrishna
Lyrics: Yogaraj Bhat
Singers: Yash
Comments
comments