August 27, 2017
Munjane Moodida Haage Lyrics
Munjane Moodida Haage Lyrics: Munjane Moodida Haage is famous song from the 1983 Kannada movie Mududida Thavare Aralithu, directed by K. V. Jayaram. It is based on the novel of the same name by Chitralekha.
Mududida Thavare Aralithu features Ananth Nag, K. S. Ashwath, Lakshmi, Shobha, Mukhyamantri Chandru, Leelavathi, Mysore Lokesh, Musuri Krishnamurthy, Leelavathi, Adavani Lakshmidevi, Shobha, K. N. Bharathi, Manjula Hiremat, Sunanda Kadapatti, Lalitha, Rathnamala, Baby Sujatha, Master Rajesh, Prabhakar, Uma Shivakumar and others.
This song was composed by M. Ranga Rao with lyrics written by Doddarange Gowda. Munjane Moodida Haage was rendered by S. P. Balasubrahmanyam.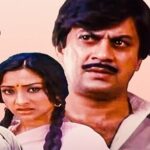 Munjane Moodida Haage Lyrics
Movie: Mududida Thavare Aralithu [1983]
Music Label: Sangeetha
Music: M. Ranga Rao
Lyrics: Doddarange Gowda
Singer: S. P. Balasubrahmanyam
Check Out 'Munjane Moodida Haage Lyrics' Here…
Munjane Moodida Haage Thangali Theedida Haage
Hombaale Thoogida Haage Kendavare Neenu Nanage
Aaa Hahaa..
Munjane Moodida Haage Thangali Theedida Haage
Hombaale Thoogida Haage Kendavare Neenu Nanage
Hasiraada Preethiya Kandu Usiraaga Bandenu Naanu
Hasiraada Preethiya Kandu Usiraaga Bandenu Naanu
Sasiyada Sneha Moha Balu Beledu Nintiralu Odi Bande Balige
Munjane Moodida Haage Thangali Theedida Haage
Hombaale Thoogida Haage Kendavare Neenu Nanage
Hosadada Aseya Thori Shashiyanthe Belaguve Neenu
Hosadada Aseya Thori Shashiyanthe Belaguve Neenu
Cheluvada Baala Kadalinali Olume Doniyali Thelu Nanna Jothege
Munjane Moodida Haage Thangali Theedida Haage
Hombaale Thoogida Haage Kendavare Neenu Nanage
Mududida Thavare Aralithu [1983] Songs List
1. Aralide Aralide Mududida Thavare
Lyrics: Anamika
Singer: S. Janaki
2. Munjane Moodida Haage
Lyrics: Doddarange Gowda
Singer: S. P. Balasubrahmanyam
3. Vivaha Baalige
Lyrics: Doddarange Gowda
Singer: S. P. Balasubrahmanyam
4. Milana Kaanadu
Lyrics: Doddarange Gowda
Singer: S. P. Balasubrahmanyam
5. Uriyuthide Hoobana
Lyrics: Doddarange Gowda
Singer: S. Janaki
Comments
comments