April 7, 2018
Na Therede Thumba Haleya Putava Lyrics
Na Therede Thumba Haleya Putava Lyrics: Na Therede Thumba Haleya Putava is a song from an upcoming 2018 Kannada movie Asathoma Sadgamaya, directed by Rajesh Vennur. The film was produced by Ashwin J Pereira Moodbidri and Melissa D Souza under the banner I Care Movies. This is the maiden venture of this production banner. Asathoma Sadgamaya features Radhika Chetan, Kiran Raj, Lasya Nagaraj, Deepak Shetty, Baby Chitrali and others.
Aanand Audio is the audio label of this movie. This song was composed and written by Wahab Salim. Na Therede Thumba Haleya Putava song was rendered by Singer Anuradha Bhat.
The Leading actor of this movie Kiran Raj was recently arrested for allegedly physically assaulting his girl friend Yasmin Pathan. based on an FIR filed by his girlfriend, He was arrested on Tuesday by the RR Nagar Police Station.
Actress Radhika Chetan of Rangitaranga fame, was born in Mysore, Karnataka. She graduated from Vidya Vikas Institute of Engineering & Technology, Mysore. She made her sandlehood debut in 2015 through the super hit Kannada movie Rangi Taranga directed by Anup Bhandari. Some of her notable works are U Turn, BB5, Kaafi Thota, Hotegagi Genu Bategagi. She is doing special appearnece in Shivraj Kumar's upcoming movie The Villain.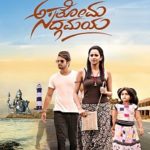 Na Therede Thumba Haleya Putava Lyrics
Movie: Asathoma Sadgamaya [2018]
Audio Label: Aananda Audio Video
Music: Wahab Salim
Lyrics: Wahab Salim
Singer: Anuradha Bhat
Check out the lyrics here..
Na Therede Thumba Haleya Putava
Nee Bareda Yedeya … Lipiya
Nee Jawaabelli Hode
Naa Sawaalanthe Kaade
Kann Miditha Bedidaru Kaanade
Kaanade Saagide Kanasu Nooru Maili
Kareyade Thirugide Manada Koogu Keli
Kangaleradu Konegalu Kanasu Malagide
Jagavillade Malagalu Nidire Horagide
Yeno Hudukutha Bhoomi Thiruguthale Ide
Adaku Munna Hudukalu Sooryanu Horata Haagide
Kadalu Yeddu Haaridanthe Bhaasavaaguthide
Na Therede Thumba Haleya Putava
Nee Bareda Yedeya … Lipiya
Vidhiya Putadi Nee Janisalu Vikala Chethana
Esedu Bidade Saaki Saluho Thaayi Paawana
Punya Kotiya Madilu Marali Dorakide
Kanasa Kote Baagilugalu Theredu Kaadide
Kaiyya Hididu Nadesutha Saagalu Daari Kareyuthide
Na Therede Thumba Haleya Putava
Nee Bareda Yedeya … Lipiya
Asathoma Sadgamaya Kannada Movie Song Lyrics
Scriptu Baredonu Pattad Myale
O Sanje Sanjeye Horadadiru
Na Therede Thumba Haleya Putava
Tinga Linga
Asathoma Sadgamaya
Comments
comments