August 29, 2018
Naavaduva Nudiye Kannada Nudi Song Lyrics | Gandhada Gudi
Naavaduva Nudiye Kannada Nudi Song Lyrics | Gandhada Gudi: Naavaduva Nudiye Kannada Nudi is a song from the 1973 Kannada movie Gandhada Gudi, directed by Vijay. This movie was produced by noted actor M. P. Shankar under the banner Bharani Chithra.  M. P. Shankar penned the story,  Vijay and M D Sundar wrote the screenplay.
Gandhada Gudi film features an ensemble cast of Dr. Rajkumar, Dr. Vishnuvardhan, Kalpana, M. P. Shankar, Narasimharaju, Balakrishna, Prabhakar, Thoogudeepa Srinivas, Sampath, B. Jaya, Shakthi Prasad, H. Ramachandra Shastry, Ananda Shekar, Zaviyar, Cheluvaraju, Borayya, SAV Swamy, Mahadevappa, Sriram, Nandagopal, Adavani Lakshmidevi, Prema Kumari, Master Viroopaksh, Master Basavaraj, Master Nataraj and others.
The director of this move Vijay, Has directed many of Blaockbuster films of Dr Rajkumar including Sri Srinivasa Kalyana, Mayura, Naa Ninna Mareyalare, Badavara Bandhu, Sanaadi Appanna, Huliya Haalina Mevu, Nee Nanna Gellalare, and Bhakta Prahlada.
N. T. Rama Rao's 1977 Telugu film Adavi Ramudu starring Jayaprada, Jayasudha and others was also inspired from Gandhada Gudi. Director K. Raghavendra Rao directed Adavi Ramudu. K. V. Mahadevan was the music director.
Gandhada Gudi was remade in Hindi as Kartavya by director Mohan Sehgal. Dharmendra, Vinod Mehra, Rekha, Utpal Dutt, and others acted in this film. Laxmikant Pyarelal composed the songs. The film was  released in 1979.
Dr Rajkumar song Shiva Rajkumar made a sequel Gandhada Gudi part 2 in 1995 directed by Vijay and produced by M. P. Shankar. Dr Rajkumar made a cameo in this film.
This song was composed by music director duo of Rajan-Nagendra. The lyrics of this song was penned by Chi. Udaya Shankar. Naavaaduva Nudiye Kannada Nudi song was rendered by famous playback singer P. B. Sreenivas.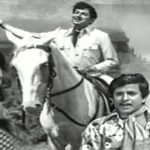 Naavaduva Nudiye Kannada Nudi Lyrics
Movie: Gandhada Gudi [1973]
Music Label: Saregama
Music: Rajan-Nagendra
Lyrics: Chi. Udaya Shankar
Singer: P. B. Sreenivas
Gandhada Gudi [1973] Songs
Song: Naavaaduva Nudiye
Lyrics: Chi. Udaya Shankar
Vocals: P. B. Sreenivas
Song: Arerere Ginirama
Lyrics: Chi. Udaya Shankar
Vocals: P. Susheela
Song: Ellu Hogolla
Lyrics: Chi. Udaya Shankar
Vocals: S. Janaki, P. B. Sreenivas
Comments
comments