April 8, 2018
Nade Nade Nade Nee Mundake Song Lyrics
Nade Nade Nade Nee Mundake Song Lyrics: Nade Nade Nade Nee Mundake is a song from an upcoming 2018 Kannada movie Heegondhu Dina, directed by Vikram Yoganand. V Vikas has written the screenplay. The film was produced by Chandrashekar under the banner Smart Screen Productions.  Heegondhu Dina features Sindhu Loknath, Praveen Tej, Guru Prasad, Mithra, Shobraj, Giri, Girija Lokesh, Balaji Manohar and others.
The leading actor of this movie Sindhu Lokanath was in Bangalore on 5-02-1987. She gratudated from St. Joseph's College of Arts & Science, Bangalore with a masters degree in Biotechnology. Her film career started in 2009 with her debut in Kannada film Parichaya. Some of her memorable movies includes Lifeu Ishtene, Drama, Yaare Koogadali, Love in Mandya, Mr. Airavata, Muppozhudhum Un Karpanaigal [Tamil] and others.
Divo is the music label of this movie. This song was composed by Abhilash Gupta with lyrics written by Ramakrishna Ranagatti. Nade Nade Nade Nee Mundake was rendered by singer Supriya Lohith.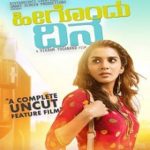 Nade Nade Lyrics
Movie: Heegondhu Dina [2017]
Music Label: Divo
Music: Abhilash Gupta
Lyrics: Ramakrishna Ranagatti
Singer: Supriya Lohith
Check out the lyrics here..
Nade Nade Nade Nee Mundake
Bidu Bidu Bidu Nee Anjike
Bare Bare Bare Nee Sanchike Ninagaagiye
Nade Nade Nade Nee Mundake
Bidu Bidu Bidu Nee Anjike
Bare Bare Bare Nee Sanchike Ninagaagiye
Yenaade Naa Naaneedina
Nanageega Eradu Rekke Bandaagaaythu
Kann Therede Naa Kampaade Naa
Hosathaagi Kande Naanu
Hosathanavu Theli Banthu
Nade Nade Nade Nee Mundake
Bidu Bidu Bidu Nee Anjike
Bare Bare Bare Nee Sanchike Ninagaagiye
Aa Kanasu Kooguthide
Ee Manasu Saaguthide
Hogu Hogu Munde Hogu Nee Hinde Sariyade
Nee Ninna Chaladali Nodu
Nodu Nodu Nee Munde Geluvide
Yenaade Naa Naaneedina
Nanageega Eradu Rekke Bandaagaaythu
Kann Therede Naa Kampaade Naa
Hosathaagi Kande Naanu
Hosathanavu Theli Banthu
Comments
comments