August 27, 2018
Nagu Nagutha Bandavale Song Lyrics | Baalida Mane
Nagu Nagutha Bandavale Song Lyrics | Baalida Mane: Nagu Nagutha Bandavale is a Kannada song from the movie Baalida Mane, directed by G. K. Mudduraj. The film was produced by C Ramamurthy and M Mahadevu under the banner Sri Ganapathi Chithralaya.
The film was released in 1997 starring Ambarish, Shashikumar, Vinaya Prasad, Rajesh, Vajramuni, Niveditha Jain, Doddanna, Sudheer, Girija Lokesh, Sathyapriya, Sathyabhama, Venki, Sathyajith, Basavanna, Kemparaju, Mysore Srikantu, D D Mahadevu, Jayaram, Pushpa Swamy, Akshatha, Baby, Krishna, Roopika and others.
Lahari Music is the music label of this movie. This song was composed by Rajan-Nagendra with lyrics penned by Prof. Doddarange Gowda. Nagu Nagutha Bandavale song was rendered by singers S. P. Balasubrahmanyam and K. S. Chithra.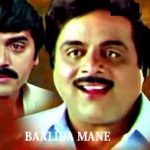 Nagu Nagutha Bandavale Lyrics
Movie: Baalida Mane [1997]
Music label: Lahari Music
Music: Rajan-Nagendra
Lyrics: Doddarange Gowda
Singers: S. P. Balasubrahmanyam, K. S. Chithra
Check out the lyrics here..
Nagu Nagutha Bandavale Mandaara Hoove
Singaarada Siriye Neenaagiruve
Singaarada Siriye Neenaagiruve
Chaancha Jaancha Cha Chaancha Jaancha Cha
Thaara Ram Tha Thaara Ram Tha
Thaara Raththa Thaara Raththa Thaa
Savi Maathanaduvane Maathalle Gelluve
Jaanarali Jaana Neenallave
Jaanarali Jaana Neenallave
Putta Bombeyanthe Nee Nalisuve
Putta Bombeyanthe Nee Nalisuve
Dina Dina Manasina Chinthe Maresuve
Dodda Maathu Doddathana Ninnalide
Ninnaya Preethiye Nanage Aasare
Yedeyali Chethana
Yedeyali Chethana Neene Aagide
Savi Maathanaduvane Maathalle Gelluve
Jaanarali Jaana Neenallave
Jaanarali Jaana Neenallave
Chaancha Jaancha Cha Chaancha Jaancha Cha
Thaara Ram Tha Thaara Ram Tha
Thaara Raththa Thaara Raththa Thaa
Nagu Nagutha Bandavale Mandaara Hoove
Singaarada Siriye Neenaagiruve
Singaarada Siriye Neenaagiruve
Yellu Illa Ninnantha Geleyanu
Yellu Illa Ninnantha Geleyanu
Yellara Snehava Nee Padediruve
Nanna Gelathi Neenaagi Jothegiralu
Hrudayavu Aralide Geluvu Moodide
Santhasa Hommide
Santhasa Hommide Jeeva Higgide
Nagu Nagutha Bandavale Mandaara Hoove
Singaarada Siriye Neenaagiruve
Singaarada Siriye Neenaagiruve
Savi Maathanaduvane Maathalle Gelluve
Jaanarali Jaana Neenallave
Jaanarali Jaana Neenallave
Chaancha Jaancha Cha Chaancha Jaancha Cha
Thaara Ram Tha Thaara Ram Tha
Thaara Raththa Thaara Raththa Thaa
Baalida Mane [1997] Songs Lyrics
Ninna Kandu Ee Manasu
Nagu Nagutha Bandavale
Aaha Chaliya
Thaayi Thande preethi
Aa Vidhi Keralithe
Comments
comments