August 10, 2018
Naguthaithe Daiva Alli Lyrics | Nanjunda
Naguthaithe Daiva Alli Lyrics | Nanjunda: Naguthaithe Daiva Alli is a Kannada song from the 1992 movie Nanjunda, directed by S. Narayan and story by M. Leelavathi who is the producer of this film. Nanjunda features Vinod Raj, M Leelavathi, Sumathi, Malathi, B V Kumar, K. Hirannaiah, Pushpa Kollalirao, Sharmili, Prakash, Akash, Raju, Venkatesh, Kitty, Gopi, Ramesh, Ashalatha, Manju malini, Leela, Uma, Muniyamma, Nirmala, Geetha, Baby Raani and others.
Lahari Music is the music label of this movie. This song was composed by Rajmohan with lyrics penned by director S. Narayan himself. Naguthaithe Daiva Alli song was rendered by playback singer Gangotri Rangaswamy.
Vinod Raj is the son of yester year actress Leelavathi. He was born in Chennai on 05 July 1967. He was trained in dancing. He made his debut through the 1987 Kannada movie Dance Raja Dance directed and produced by Dwarakish. some of Vinod Raj's notable movies are Dance Raja Dance, Krishna Nee Kunidaga (1989), College Hero (1990), Nanjunda (1993), Snehaloka (1999), Sri Manjunatha (2001) and others.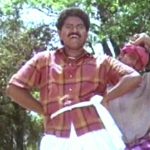 Naguthaithe Daiva Alli Lyrics
Movie: Nanjunda [1992]
Music Label: Lahari Music
Music: Rajmohan
Lyrics: S. Narayan
Singer: Gangotri Rangaswamy
Check out the lyrics here..
Naguthaithe Daiva Aluthaithe Jeeva Illi
Naguthaithe Daiva Aluthaithe Jeeva Illi
Vidhiyaata Kandor Yaaro Maanava
Vidhiyaata Kandor Yaaro Maanava
Naguthaithe Daiva Aluthaithe Jeeva Illi |2|
Vidhiyaata Kandor Yaaro Maanava |2|
Kunisonu Allu Kunthavne Myage
Kuniyoru Naavu Ninthkondre Hyange
Nenedange Ella Naded Hodre Munde
Baredonge Alli Bele Yello Thande
Vidhiyeeee Vidhiyeee
Vidhiyaata Kandor Yaaro Maanava
Vidhiyaata Kandor Yaaro Maanava
Manadaase Nooru
Madagdonu Yaaru
Jaribyada Yaara Nija Aithe Doora
Thilikondre Baalu Hasanaada Haalu
Muniskondre Ninge Kade Thanka Golu
Vidhiyeeee Vidhiyeee
Vidhiyaata Kandor Yaaro Maanava
Naguthaithe Daiva Aluthaithe Jeeva Illi
Naguthaithe Daiva Aluthaithe Jeeva Illi
Vidhiyaata Kandor Yaaro Maanava
Nanjunda [1992] Songs
Nammornaag Naanobne Jaana
Prema Daivagala Veda
Naguthaithe Daiva Alli
Sontava Hidibyada
Kaaduthaithe Beduthaithe
Comments
comments