March 3, 2018
Naguveya Henne Naanu Jaari Lyrics
Naguveya Henne Naanu Jaari Lyrics: Naguveya Henne Naanu Jaari is a song from 1976 Kannada movie Premada Kanike, directed by V. Somashekhar and the story was written by Salim-Javed based on the 1969 Hindi film Do Bhai. This film was remade in Tamil as Polladhavan in 1980 starring Rajinikanth.
Premada Kanike features Dr. Rajkumar, Aarathi, Jayamala, Vajramuni, Rajashankar, Balakrishna, Sampath, Thoogudeepa Srinivas, Ramadevi, B. Jaya, Rathnamala, Jayamma, Baby Poornima Rajkumar, Puneeth Rajkumar (credited as Master Lohith) and others.
Saregama was the music label of this movie. Premada Kanike has total 6 sound tracks and all songs are extremely good and considered as evergreen hits. This song was composed by Upendra Kumar with the lyrics penned by Vijaya Narasimha. Naguveya Henne Naanu Jaari Lyrics song was rendered by Dr. Rajkumar, H. P. Geetha.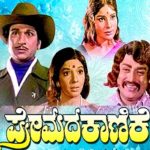 Naguveya Henne Naanu Jaari Lyrics
Movie: Premada Kanike [1976]
Music Label: Saregama
Music: Upendra Kumar
Lyrics: Vijaya Narasimha
Singers: Dr. Rajkumar, H. P. Geetha
Check Out The Lyrics Here…
Naguveya Henne Naanu Jaari Beeluvaaga
Aritheya Kailyuva Daari Eega
Sahajavu Nadevanu Edavodu
Sahajavu Jaaronu Urulodu
Innendu Hiriyara Ee Honna Nudiya
Mareyabedave
Naguveyaaa.. Henne Naanu Jaari Beeluvaaga
Aritheya Kailyuva Daari Eega
Thiliside Neethiya Nudigalanu
Kaliside Nadeyuva Reethiyanu
Yendendu Naa Ninna Ee Jaana
Nudiya Marethu Baalenu
Cheluveye Nee Jaane
Muththantha Maathaadi
Manake Aananda Thande
Cheluveye Nee Jaane
Muththantha Maathaadi
Manake Aananda Thande
Rasikane Saakinnu Hogalike Yekinnu
Ninage Naa Sothu Hode |2|
Naguveyaaa Naguveyaaa
Bayasade Nee Bande Nooraaseya Thande
Marevene Innu Ninnaa
Bayasade Nee Bande Nooraaseya Thande
Marevene Innu Ninnaa
Bayakeya Hoovaade Olavina Jenade
Biduvene Naanu Ninna
Biduvene Naanu Ninna
Naguveya Henne Naanu Jaari Beeluvaaga
Aritheya Kailyuva Daari Eega
Sahajavu Nadevanu Edavodu
Sahajavu Jaaronu Urulodu
Innendu Hiriyara Ee Honna Nudiya
Mareyabedave
Naguveyaaa.. Henne Naanu Jaari Beeluvaaga
Aritheya Kailyuva Daari Eega
Premada Kanike [1976] Songs
Putta Putta Hejje Ittu
Baanigondu Yelle Yellide
Chinna Yendu Naguthiru Nanna
Idu Yaaru Bareda Katheyo
Naguveya Henne Naanu Jaari
Naa Bidalaare Yendu Ninna
Comments
comments