July 6, 2018
Naliva Gulabi Hoove Lyrics | Auto Raja
Naliva Gulabi Hoove Lyrics | Auto Raja: Naliva Gulabi Hoove is a Kannada song from the movie Auto Raaja [Auto Raja], directed by Vijay. The film was produced by C. Jayaram under the banner Sapthaswara Movie Makers.
The film was released in 1980 featuring Shankar Nag, Gayathri, Dwarakish, Balakrishna, Thoogudeepa Srinivas, Sundar Krishna Urs, Tiger Prabhakar, Leelavathi, Musuri Krishnamurthy, Padma, K. S. Ashwath, Papamma and others.
This movie was remade in Tamil with same name starring Vijayakanth in 1982. Saregama was the music label of this movie. All songs of this movie were composed Rajan-Nagendra with the lyrics penned by Chi. Udayashankar. Naliva Gulabi Hoove Mugilaa song was rendered by the one and only S. P. Balasubrahmanyam. This evergreen Kannada song has beautiful heart touching lyrics and music. The song was beautifully sung by SPB.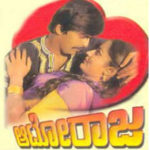 Naliva Gulabi Hoove Mugilaa Lyrics
Movie: Auto Raaja [1980]
Music Label: Saregama
Music: Rajan-Nagendra
Lyrics: Chi. Udayashankar
Singers: S. P. Balasubrahmanyam
Check out the lyrics here..
Naliva Gulabi Hoove Mugilaa Meleri Naguve
Naliva Gulabi Hoove Mugilaa Meleri Naguve
Ninage Nannalli Olavoo Ariye Nannalli Chalavoo
Naliva Gulabi Hoove
Olavoo Chalavoo Olavoo Chalavoo
Sulide Thangaaliyanthe Nudide Sangeethadanthe
Sulide Thangaaliyanthe Nudide Sangeethadanthe
Olavina Baleyali Seleyutha Kunidhe
Sogasaagi Hithavaagi
Manava Nee Seralende Bayake Nooraaru Thande
Bayasade Baliyali Suliyutha Olide
Indeke Dooraade
Bayasade Baliyali Suliyutha Olide
Indeke Dooraade Higeke Mareyaade
Naliva Gulabi Hoove Mugilaa Meleri Naguve
Ninage Nannalli Olavoo Ariye Nannalli Chalavoo
Naliva Gulabi Hoove
Olavoo Chalavoo Olavoo Chalavoo
Sumave Nee Baadadanthe Bisilaa Nee Nodadanthe
Sumave Nee Baadadanthe Bisilaa Nee Nodadanthe
Neralali Sukhadhali Naguthiru Cheluve
Endendu Endendu
Iru Nee Haayaagi Heege Irali Nanagella Bege
Kanasali Nodida Siriyanu Mareve
Ninagaagi Nanagaagi
Kanasali Nodida Siriyanu Mareve
Ninagaagi Nanagaagi
Ninagaagi Nanagaagi
Naliva Gulabi Hoove Mugilaa Meleri Naguve
Ninage Nannalli Olavoo Ariye Nannalli Chalavoo
Naliva Gulabi Hoove
Olavoo Chalavoo Olavoo Chalavoo
Naliva Gulabi Hoove
Comments
comments