November 3, 2017
Nambi Kettavarillavo Lyrics
Nambi Kettavarillavo Lyrics: Nambi Kettavarillavo is a song from the 1994 Kannada movie Odahuttidavaru, directed by Dorai – Bhagawan. Odahuttidavaru features Rajkumar, Ambareesh, Madhavi, Srishanti, Vajramuni, K. S. Ashwath, Balakrishna, Umashree and others. The film was the last work of the acclaimed lyricist Vijaya Narasimha. Sangeetha is the music label of this movie. This song was composed by Upendra Kumar with lyrics penned by Chi. Udaya Shankar. Nambi Kettavarillavo was rendered by Rajkumar.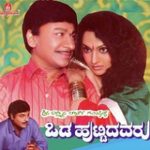 Nambi Kettavarillavo Lyrics
Movie: Odahuttidavaru [1994]
Music Label: Sangeetha
Music: Upendra Kumar
Lyrics: Chi. Udaya Shankar
Singer: Rajkumar
Check out the lyrics here..
Nambi Kettavarillavo Thammayya Nee Kelo Nambi Kettavarillavo
Nambi Kettavarillavo Mannannu Endendu Nambi Kettavarillavo
Manninda Banda Naavu Mannalle Irabeku
Manninda Banda Naavu Mannalle Irabeku
Mannase Irothanka Mannina Maganaagu
Nambi Kettavarilla Thammayya Nee Kelo Nambi Kettavarillavo
Mannindale Anna Mannindale Chinna
Mannindale Thrana Vannindale Prana
Mannindale Ee Lokavu Balu Chanda
Manne Koduvudu Hasiranu Aa Hasire Koduvudu Usiranu
Manne Koduvudu Badukanu Aa Baduke Koduvudu Belakanu
Manninindale Giriyu Saasira Manninindale Giriyu Saasira
Manninindale Gudiyu Gopura Manninindale Gudiyu Gopura
Nambi Kettavarilla Thammayya Nee Kelo Nambi Kettavarillavo
Mungaru Male Chanda Thangali Innu Chanda
Bhoothayi Nagu Chanda Haalakki Nudi Chanda
Suggi Kaala Chanda Higgi Kunivudu Innu Chanda
Bere Kelasavu Ethake Aa Chinthe Bidu Innethake
Manna Melidu Nambike Nee Nambidode Ellanjike
Negilannu Hidiyuvaatha Negilannu Hidiyuvaatha
Deshakella Annadaatha
Nambi Kettavarilla Thammayya Nee Kelo Nambi Kettavarillavo
Manninda Banda Naavu Mannalle Irabeku
Mannase Irothanka Mannina Maganaagu
Nambi Kettavarillavo Thammayya Nee Kelo Nambi Kettavarillavo
Comments
comments