June 19, 2018
Nammoora Siridevi Lyrics | Kunthi Puthra
Nammoora Siridevi Lyrics | Kunthi Puthra: Nammoora Siridevi is a Kannada song from the movie Kunthi Puthra [Kunthiputra], directed by Vijay and was released in 1994. The film was produced by Vijay under the banner Sri Vaishnodevi Productions.
Kunthi Puthra features Sahasa Simha Vishnuvardhan, Shashikumar, Sonakshi, Rajanand, Mukyamanthri Chandru, Sudheer, Ramesh Bhat, Umesh, Pandaribai, Rekha Prakash, Kalashree, Rathnakar, Dingri Nagaraj, Sihikahi Chandru, B K Shankar, Mandeep Roy, M S Karanth, Chikkanna, Srishailan, Ramanand, Master Anand and others.
Jhankar Music is the music label of this movie. This song was composed by Vijayanand with lyrics penned by Doddarange Gowda, Manohar. Nammoora Siridevi song was rendered by S. P. Balasubrahmanyam and K. S. Chithra.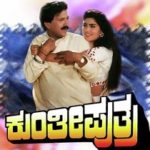 Nammoora Siridevi Lyrics
Movie: Kunthi Puthra [1994]
Music Label: Jhankar Music
Music: Vijayanand
Lyrics: Doddarange Gowda, Manohar
Singers: S. P. Balasubrahmanyam, K. S. Chithra
Check out the lyrics here..
Aha Haaha Haa Aha Haaha Haa |2|
Nammora Siridevi Naale
Mangalya Shiravero Vele
Devathegale Nodiri Harasi Avala Haadiri
Sukhadi Baalalendu Nagutha Balalendu |2|
Yuga Uruli Yugave Barali
Naa Ninna Jothe Iruve
Thade Nooru Barali Cheluve
Nee Nanna Sathi Yenuve
Jenantha Maathanu Nudide
Naane Soubhaagyavathi
Ninnantha Pathiyanu Padeva
Naanendu Punyavathi
Yendu Nimma Baalinalli Irali Heege Ullasa
Hrudaya Thumbi Haaduthiruve Bayasi Nimma Santhosha
Pathiya Arethu Nadeye Jaane
Neene Avana Midiyo Veene
Nagutha Baalu Neenu Sukhadi Baalu Neenu |2|
Baanalli Mincho Thaare Baliyalli Nnthihalo
Jenalli Iruva Saara Nanagaagi Thandihalo
Shashiyanthe Belago Cheluva
Nanagindu Aasareyo
Sukumaara Pora Ivanu
Naanavana Kai Sereyo
Prema Ondu Chaithradanthe
Baadi Hogo Sumavalla
Hrudaya Biridu Hoda Melu
Adake Yendu Saavilla
Yedeya Olage Naguva Hoove
Ninage Yendu Agadu Nove
Nagutha Baalu Neenu Sukhadi Baalu Neenu |2|
Nammora Siridevi Naale
Mangalya Shiravero Vele
Devathegale Nodiri Harasi Avala Haadiri
Sukhadi Baalalendu Nagutha Balalendu |2|
Kunthi Puthra Song Lyrics
Ee Prema Mareyada Manasina
Nammoora Siridevi
Amma Yennalu
Pappikode Ondu Pappikode
Ding Dong Ding Dong
Comments
comments