August 13, 2017
Nammura Nyaya Devaru Lyrics
Nammura Nyaya Devaru Lyrics: Nammura Nyaya Devaru is a song from the 1992 Kannada movie Chikkejamanru, directed by Om Sai Prakash. Chikkejamanru features V. Ravichandran, Gowthami, Jai Jagadish, Shivakumar, Vijay, Mukyamanthri Chandru, Tennis Krishna, Sarigama Viji, Shubha, Srilalitha, Manasa, Malathi, Kamanidharan, Chethan Ramarao, Kunigal Nagabhushan and others. The film is a remake of Tamil film Chinna Gounder directed by R. V. Udayakumar and starring Vijayakanth and Sukanya. The film was also remade in Telugu as Chinarayudu starring Venkatesh and Vijayashanti.
Akash Audio was the music label of this movie. This song was composed and lyrics written by Hamsalekha. Nammura Nyaya Devaru was rendered by Mano, K. S. Chithra.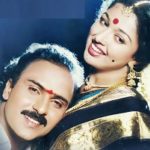 Nammura Nyaya Devaru Lyrics
Movie: Chikkejamanru [1992]
Music Lable: Akash Audio
Music: Hamsalekha
Lyrics: Hamsalekha
Singers: Mano, K. S. Chithra
Check out the lyrics here..
Mari Kannu Masali Kannu Doshavellavu Gaalige
Kachcho Baayi Chuchcho Baayi Baigalellavu Benkige
Bottu Nethige Nimbe Meesege Hara Kuthigege
Khadga Kalige Yantra Kayige Deepa Arathige
Nammura Nyaya Devaru Ee Chikka Yajamanaru
Nammura Nyaya Devaru Ee Chikka Yajamanaru
Mathinalli Vishavilla Adidare Pollilla
Neethiyalli Eradilla Reetiyalli Edavilla
Maana Thanna Praana Ennuva
Nammura Nyaya Devaru Ee Chikka Yajamanaru
Thandanana Thana nananaaa
Thandanana Thana nananaaa
Raagiyagali Jolavagali Harasi Belesva Olle Kaiguna
Gudisalagali Gudigalagali Katti Ulisuva Chinnada Guna
Para Naari Soodarana Manasu Haalu Jenu
Saradara Shooranige Sahane Kudure Jenu
Nammura Nyaya Devaru Ee Chikka Yajamanaru
Mathinalli Vishavilla Adidare Pollilla
Neethiyalli Eradilla Reetiyalli Edavilla
Maana Thanna Praana Ennuva
Nammura Nyaya Devaru Ee Chikka Yajamanaru
Neevu Oppida Nyaya Nannadu
Nanna Nyayada Sathya Nimmadu
Maathu Muridare Nyaya Avasara
Manasu Muridare Preethi Avasara
Mathalli Mamathe Thumbi Karune Belesi Ooralli
Manasalli Preethi Thumbi Dwesha Alisi Baalalli
Nammura Nyaya Devaru Ee Chikka Yajamanaru
Mathinalli Vishavilla Adidare Pollilla
Neethiyalli Eradilla Reetiyalli Edavilla
Maana Thanna Praana Ennuva
Nammura Nyaya Devaru Ee Chikka Yajamanaru
Chikkejamanru Song Lyrics
Rama Rama Rama
Nammoora Nyaya Devaru
Buguri Buguri
Premada Hoogara
Sobane Enniramma
Rama Rama Rama (sad)
Comments
comments