February 8, 2018
Nanjundi Kalyana Lyrics
Nanjundi Kalyana Lyrics: Nanjundi Kalyana is a song from an upcoming 2018 Kannada movie Nanjundi Kalyana, directed by Rajendra Karanth. The film was produced by Shivanna Dasanapura under the banner Sri Rama Talkies. Nanjundi Kalyana features Tanush, Shravya, Kuri Prathap, Padmaja Rao, Rajendra Karanth and others. JP Music – D is the music label of this movie. This song was composed by Anoop Seelin with lyrics penned by Arasu Anthare. Nanjundi Kalyana was rendered by J. Anoop Seelin and Vyasaraj Sosale.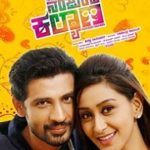 Nanjundi Kalyana Lyrics
Movie: Nanjundi Kalyana [2018]
Music Label: JP Music – D
Music: J. Anoop Seelin, Sateesh
Lyrics: Arasu Anthare
Singers: Vyasaraj Sosale, J. Anoop Seelin
Check out the lyrics here..
Neththi Meliro Thoogo Kaththiya
Kelagiliso Ninna Dammayya
Neene Nungappa Bisiya Thuppa
Bali Ka Bakra Naanagallappa
Oorigulidone Jaananallave
Neenu Nanna Praanave
Costly Benne Savra Bedappa
Nanjundi Kalyana Ninna Kailide Jaana
Nanjundi Kalyana Ba Drama Aadona
Neththi Meliro Thoogo Kaththiya
Kelagiliso Ninna Dammayya
Dwapara Yugada Karnana Neneyo
Friendshippigaagi Saththillave
Ambreesh Annandu Vishnu Daadandu
Aa Dosthi Ninge Goththillave
Puraana Katheyu Keloke Chanda
Maadoke Alla Mari
Night Alli Kanda Baavige Hagalu
Naa Beelodillave Mari
Nanjundi Kalyana Ninna Kailide Jaana
Nanjundi Kalyana Ba Drama Aadona
Neththi Meliro Thoogo Kaththiya
Kelagiliso Ninna Dammayya
Bettada Maadappa Thirupathi Thimmappa
Neenaagu Hellappa Pa Pa Pa Pa Papa Pa
Chaddi Illada Aa Kaaladinda
Naavibru Aadi Beledillave
Nan Hudugi Bittu Yaavthgoo
Naanu Badukalla Antha Goththillave
Love Anda Mele Novu Iruththe
Dove Yella Beda Guru
Ill Ganta Alla Inmele Nodi
Nijavaada Picturru Shuru
Neththi Meliro Thoogo Kaththiya
Kelagiliso Ninna Dammayya
Oorigulidone Jaananallave
Neenu Nanna Praanave
Jaasthi Benne Savra Bedappa
Nanjundi Kalyana Ninna Kailide Jaana
Nanjundi Kalyana Ba Drama Aadona
Comments
comments