October 24, 2017
Nanna Kuse Lyrics
Nanna Kuse Lyrics: Nanna Kuse is a song from an upcoming 2017 Kannada movie College Kumar, directed by Alemaari Santhu. College Kumar features Vicky [Kendasampige fame], Samyuktha Hegde [Kirik Party fame], Ravishankar, Shruthi, Sadhu Kokila and others. Jhankar Music is the music label of this movie. This song was composed by Arjun Janya with lyrics penned by V. Nagendra Prasad. Nanna Kuse was rendered by Nithin Rajaram Shastry.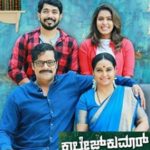 Nanna Kuse Lyrics
Movie: College Kumar [2017]
Music Label: Jhankar Music
Music: Arjun Janya
Lyrics: V. Nagendra Prasad
Singer: Nithin Rajaram Shastry
Check out the lyrics here..
Nawaabanaagu Nee Saahebanaagu Adhikaari Neenaagu
Baladhyanaagu Nee Gunaadhyanaagu Upakaari Neenu Aagu
Nanna Koose Nanna Kanasu Nanna Kanase Nanna Koosu
Nanna Koose Nanna Belaku Nanna Koose Nanna Baduku
Nawaabanaagu Nee Saahebanaagu Adhikaari Neenaagu
Kanasinalu Barabeku Ninna Shaale
Saraswathiya Krupe Irali Nina Mele
Areghalige Kanreppe Muchchadele
Aragisiko Kannadada Pada Maale
Odu Ella Odu Munde Ninge Raaja Yogavu
Kaala Mele Kaala Haaki Kooro Kaalavu
Hana Galisidare Kaleyuvudu Kaleyadu Aksharavu
Nanna Koose Nanna Kanasu Nanna Kanase Nanna Koosu
Nanna Koose Nanna Belaku Nanna Koose Nanna Baduku
Dudiyuvenu Ambaligu Kambaligu
Baradirali Nanna Kashta Ninnavaregu
Hasivenuva Hale Geleya Nanna Jothe
Kushigalale Thumbirali Ninna Kathe
Nanna — Neenu Vidyaavanthanaagalu
Vidye Neenu Kaayi Vidye Ninna Kaavalu
Bada Thandeya Ee Janumake Nee Koduveya Udugoreya
Nanna Koose Nanna Kanasu Nanna Kanase Nanna Koosu
Nanna Koose Nanna Belaku Nanna Koose Nanna Baduku
College Kumar Songs
Naavu Last Bench
Marali Marali
Hasi Bisi
Nanna Kuse
Save
Comments
comments