July 27, 2022
Nanna Preethiya Devatheyu Lyrics
Nanna Preethiya Devatheyu Lyrics: Nanna Preethiya Devatheyu is a Kannada song from the 2002 movie 'Ninne Preethisuve', directed by Om Prakash Rao and produced by K. Meharunnisa Rehaman, K. Musthafa under the banner Oscar Films.
The film was a remake of director Rajakumaran's Tamil film Nee Varuvai Ena [1999] starring Parthiban, Devayani and Ajith Kumar in the lead roles.
Ninne Preethisuve Kannada movie features Ramesh Aravind, Shivarajkumar, Rashi, Sharan, Lokesh, Mukyamanthri Chandru, Sihikahi Chandru, Srilalitha, Chithra Shenoy, Jayalakshmi, Shailaja Joshi, Dingri Nagaraj, Sadhu Kokila, Shivajirao Jadav, M S Karanth, Baby Raksha, and others.
Nanna Preethiya Devatheyu Lyrics were written by K. Kalyan and the song were created by music director Rajesh Ramanath based on the original tunes of Tamil songs. This song was sung by singers Rajesh Krishnan, and K. S. Chithra. Anand Audio is the music label of this film.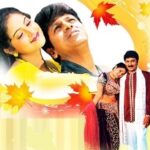 Nanna Preethiya Devatheyu Lyrics
Movie: Ninne Preethisuve [2002]
Music: Rajesh Ramanath
Lyrics: K. Kalyan
Singers: Rajesh Krishnan, K. S. Chithra
Audio On: Anand Audio
Check out 'Nanna Preethiya Devatheyu Lyrics' here..
Nanna Preethiya Devatheyu
Bali Bandalu
Nanna Hrudayada Baagilige
Belakaadalu
Belli Beladingalina Nageyanthe
Indrana Kulada Dore Magalanthe
Janma Janmada Nenapu Karedanthe
Ande Bittalu Manasu Baredanthe
Ninne Preethisuve Endu
Nanna Preethiya Devateyu
Bali Bandalu
Nanna Hrudayada Baagilige
Belakaadalu
Eshto Chaitragalalli
Eshto Chigurugalalli
Kande Ninna Guruthannu
Eshto Dhikkugalalli
Eshto Belakugalalli
Kandu Ninna Neralanu
Ninna Naguve Nannedhege Amrutha Kalasha
Ninna Sparshave Ee Usirige Maayadha Harusha
Ninna Notadha Hombelakali Ondhu Nimisha
Naaniddare Adhe Nanage Saavira Varusha
Ennuttide Ee Manasu..
Ninne Preethisuve Endu
Nanna Preethiya Devatheyu
Bali Bandalu
Nanna Hrudayada Baagilige..
Belakaadalu
Eshto Kanasugalalli
Aaseya Neeranu Chelli
Beleside Olavannu
Eshto Vrathagala Maadi
Kaayuva Mantrava Haadi
Bedikonde Jotheyanu
Ninna Hrudayake Kannittu Kaavalu Iruve
Nanna Hrudayava Kai Bittu Kaanike Koduve
Ninnusirige Nannusirina Snaanava Maadi
Prathi Haniyalu Ninna Hesaranu Baredhu Biduve
Heegiddaru Thilililla
Ninne Preethisuve Endu
Nanna Preethiya Devateyu Bali Bandalu
Nanna Hrudayada Baagilige Belakaadalu
Belli Beladingalina Nageyanthe
Indrana Kulada Dore Magalanthe
Janma Janmada Nenapu Karedante
Ande Bittalu Manasu Baredanthe
Ninne Preethisuve Endu
Nanna Preethiya Devatheyu Bali Bandalu
Nanna Hrudayada Baagilige Belakaadalu
Ninne Preethisuve [2002] Kannada Songs List
1. Prema Patra Bareyithu
Lyrics: K. Kalyan
Singers: Rajesh Krishnan, K. S. Chithra
2. Kogile Haadu Chandana
Lyrics: K. Kalyan
Singers: Rajesh Krishnan, K. S. Chithra
3. Gudi Ghanteyu Molaguva
Lyrics: K. Kalyan
Singers: Rajesh Krishnan, K. S. Chithra
4. Olave Nanna Olave
Lyrics: K. Kalyan
Singers: Rajesh Krishnan, K. S. Chithra
5. Nanna Preethiya Devatheyu
Lyrics: K. Kalyan
Singers: Rajesh Krishnan, K. S. Chithra
6. Ninna Preethiya
Lyrics: K. Kalyan
Singers: Rajesh Krishnan, K. S. Chithra
Comments
comments