March 12, 2018
Nannavaru Yaaru Illa Yaarige Lyrics
Nannavaru Yaaru Illa Yaarige Lyrics: Nannavaru Yaaru Illa Yaarige is a song from the 1988 Kannada movie Jeevana Chakra, directed H. R. Bhargava and produced by Bhargava, Rajaram under the banner Kalakruthi. Jeevana Chakra features Vishnuvardhan, Raadhika, Vijayakashi, Saroja, Ramesh Bhat, C R Simha, Sudheer, Chi. Udayashankar and others. This movie was a remake of 1983 Telugu movie Dharmaatmudu starring Krishnam Raju and Jayasudha. The film was also remade in Tamil as Nallavanuku Nallavan starring Rajnikanth.
Sangeetha music was the music label of this movie. This song was composed by Rajan-Nagendra with lyrics penned by Chi. Udaya Shankar. This song Nannavaru Yaaru Illa Yaarige was rendered by S. P. Balasubrahmanyam. This evergreen song has some great lyrics by Udaya Shankar and it is very heart touching song. SPB at his best. Great music.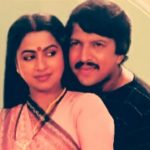 Nannavaru Yaaru Illa Yaarige Lyrics
Movie: Jeevana Chakra [1985]
Music Label: Sangeetha
Music: Rajan-Nagendra
Lyrics: Chi. Udaya Shankar
Singers: S. P. Balasubrahmanyam
Check out the lyrics here..
Nannavaru Yaaru Illa Yaarige Yaaru Illa
Preethi Vaathsalyake Arthave Illa
Preethi Vaathsalyake Arthave Illa
Araluva Munna Moggu Ballige Swantha
Aralida Mele Hoovu Pararige Swantha
Hasirina Kaayi Endoo Rembege Swantha
Ruchisuva Hannu Endoo Thinnorige Swantha
Jagave Heege Baduke Heege
Nondaroo Illa Bendaroo Illa
Benadaroo Illa
Aakashakke Koneye Illa Aasege Mithiye Illa
Naanu Neenu Bayosodella Nadeyuvudilla
Nannavaru Yaru Illa Yaarige Yaaru Illa
Preethi Vaathsalyake Arthave Illa
Rekkeyu Bandaa Mele Hakkiyu Thaanu
Heththavaru Yaaru Endu Noduvudenu
Devara Srushti Heege Kaaneya Neenu
Vedaneyonde Thaane Badukali Innu
Mareye Nova Bidu Vyaamoha
Ella Vischithraa Jeevana Chakra
Jeevana Chakra
Thottilanu Thoogideyalla Jogula Haadideyalla
Kannalittu Kaapaadide Vyarthavu Ella
Nannavaru Yaaru Illa Yaarige Yaaru Illa
Preethi Vaathsalyake Arthave Illa
Nannavaru Yaaru Illa Yaarige Yaaroo Illa
Jeevana Chakra Songs
Aananda Aananda Aanandave
Aakaashavu Ee Bhoomiyu Ella
Nannavaru Yaaru Illa Yaarige
Olleya Vayaside Olleya Manaside
Comments
comments