March 1, 2018
Nee Meetida Nenapellavu Song Lyrics
Nee Meetida Nenapellavu Song Lyrics: Nee Meetida Nenapellavu is a song from the 1985 Kannada movie Nee Bareda Kadambari, directed and produced by Dwarakish. This is Dwarakish's debut film as a director. Nee Bareda Kadambari features Vishnuvardhan, Bhavya, C. R. Simha, Sundarraj, Hema Choudary, Uma Shivakumar, Lohithashwa, Shivalingaraju, Thipatur Siddaramaiah, Giridhar, Aarooru Sathyabhama, Chethan Ramarao, Master Arjun, Jayakumar, Umesh Hegde, Jayashree, Devika Rani, Jyothi Priya and others.
This film was a remake of 1985 Hindi film Pyar Jhukta Nahin starring Mithun Chakraborty. The film was later remade in Tamil as Naan Adimai Illai featuring Rajinikanth and Sridevi. Sangeetha Music is the music label of this movie.
This song was composed by Vijayanand with lyrics penned by R. N. Jayagopal. Nee Meetida Nenapellavu was rendered by S. P. Balasubrahmanyam.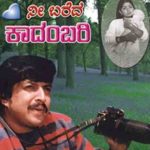 Nee Meetida Nenapellavu Song Lyrics
Movie: Nee Bareda Kaadambari [1985]
Music Label: Sangeetha
Music: Vijayanand
Lyrics: R. N. Jayagopal
Singers: S. P. Balasubrahmanyam
Check out the lyrics here..
Nee Meetida Nenapellavu
Yede Thumbi Haadaagide
Indethako Naa Ninnali
Berevantha Manasaagide
Ee Bandhana Bahu Janmada
Kathe Yendu Mana Helide
Ee Bandhana Bahu Janmada
Kathe Yendu Mana Helide
Nee Meetida Oo Oo Oo
Nenapellavu Oo Oo Oo
Yede Thumbi Haadaagide
Baalalli Nee Barede
Kanneera Kaadambari Ohoo
Kallada Hrudayakke Indaade Nee Maadari
Usiraaguve Yenda Maathellide
Sihi Premave Indu Vishavaagide
Husi Preethiya Naa Nambide
Malebillige Kai Chaachide
Olave Cheluve Nanna Marethu Naguve
Nee Meetida Nenapellavu
Yede Thumbi Haadaagide
Hagalenu Irulenu
Manadaase Mareyaagide
Saavenu Badukenu Yekaangi Naanaagide
Naa Baaluve Kanda Ninagaagiye
Ee Jeevana Ninna Sukhakaagiye
Nannaeya Hoovanthe Nee Irulalliyu Belakanthe Nee
Nagutha Iru Nee Nanna Preethiya Maguve
Nee Meetida Nenapellavu
Yede Thumbi Haadaagide
Indethako Naa Ninnali
Berevantha Manasaagide
Ee Bandhana Bahu Janmada
Kathe Yendu Mana Helide
Ee Bandhana Bahu Janmada
Kathe Yendu Mana Helide
Nee Meetida Nenapellavu
Yede Thumbi Haadaagide
Indethako Naa Ninnali
Berevantha Manasaagide
Ee Bandhana Bahu Janmada
Kathe Yendu Mana Helide
Ee Bandhana Bahu Janmada
Kathe Yendu Mana Helide
Nee Bareda Kaadambari [1985] Songs
Nee Meetida Nenapellavu [Duet]
Nee Meetida Nenapellavu [S.Janaki]
Nee Meetida Nenapellavu [SPB]
Ee Prema Hithavaagide
Soorya Chandra Aakashakke
Comments
comments