July 2, 2018
Nee Thanda Kaanike Lyrics | Hrudaya Sangama
Nee Thanda Kaanike Lyrics | Hrudaya Sangama: Nee Thanda Kaanike is a song from the 1972 Kannada movie Hrudaya Sangama, directed by Rashi Brothers and written by H. N. Muddukrishna. The film was produced by Muddukrishna H N, Jayasimha H N, Maruthi H N under the banner MJM Productions.
Hrudaya Sangama features Rajkumar, Bharathi, Balakrishna, K. S. Ashwath, Loknath, Pandari Bai, Jayaram, Sampath, Shivaram, Ganapathi Bhat, Shakti Prasad, Comedian Guggu, Mahadevappa, C. H. Lokanath, H. G. Somashekar, Dr Sridhar, Thipatur Siddaramaiah, and others. Saregama is the music label of this movie. This song was composed by Vijaya Bhaskar with lyrics penned by R. N. Jayagopal. Nee Thanda Kaanike song was sung by famous playback singers P. B. Sreenivas and S. Janaki.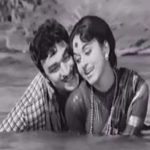 Nee Thanda Kaanike Lyrics
Movie: Hrudaya Sangama [1972]
Music Label: Saregama
Music: Vijaya Bhaskar
Lyrics: R. N. Jayagopal
Singers: S. Janaki, P. B. Sreenivas
Check out the lyrics here..
Nee Thanda Kaanike
Nage Hoova Maalike
Nage Hoova Maalike
Naa Thanda Kaanike
Anuraaga Maalike
Adakilla Holike
Nee Thanda Kaanike
Nage Hoova Maalike
Nage Hoova Maalike
Naa Thanda Kaanike
Anuraaga Maalike
Adakilla Holike
Kannalle Barede Olavina Peetike
Pooraisa Bande Manasina Bedike
Kannalle Barede Olavina Peetike
Pooraisa Bande Manasina Bedike
Mai Marethu Ninthe Aa Ninna Notake
Mai Marethu Ninthe Aa Ninna Notake
Naa Haadi Kunide Ninnede Thaalake
Aa Aa Aa Aa Haaaa
Nee Thanda Kaanike
Nage Hoova Maalike
Nage Hoova Maalike
Naa Thanda Kaanike
Anuraaga Maalike
Adakilla Holike
Karede Naanna Kanasina Theerake
Aaseya Hoogalu Araliha Thotake
Ee Baala Gudige Neenaade Deepike
Belakaagi Ninde Nee Yenna Jeevake
Nee Thanda Kaanike
Nage Hoova Maalike
Nage Hoova Maalike
Naa Thanda Kaanike
Anuraaga Maalike
Adakilla Holike
Hrudaya Sangama Songs Lyrics
Nee Thanda Kaanike
Nade Nade Nade
Yeno Kurudu Bhavane
Yaaru Nee Yaaru
Gandhada Nerigyole
Nee Thanda Kaanike [S. Janaki]
Comments
comments