August 2, 2018
Neene Saakida Gini Song Lyrics | Manasa Sarovara
Neene Saakida Gini Song Lyrics | Manasa Sarovara: Neene Saakida Gini is a famous Kannada song from the super hit movie Manasa Sarovara, directed by Puttanna Kanagal. The film was produced by Varghese, Kamalakar, Smt Geetha Srinath, S R Puttanna Kanagal under the banner Mithra Vrunda Movies.
Manasa Sarovara was released in 1982 featuring Srinath, Padmavasanthi, Ramakrishna, Mysore Lokesh, Jai Jagadish, G. Pandithachar, Damayanthi, Vijaya Chamundeshwari, G. V. Shivanand, B K Shankar, Sandoor Saikumar, Chandrahasa, Nanjunda Arakalagodu, Anand Darwar, Sathyasandha, Gopalakrishna, Pandu, Janakiram, Bhavaniprasad, Sadanand, Koushik, Nagaveni, Chandrashekar, Rekha Rao, Vaishali and others.
Sangeetha is the music label of this movie. This song was composed by Vijaya Bhaskar with lyrics penned by Vijaya Narasimha. Neene Saakida Gini Song was rendered by S. P. Balasubrahmanyam.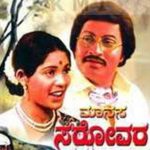 Neene Saakida Gini Lyrics
Movie: Manasa Sarovara [1982]
Music Label: Sangeetha
Music: Vijaya Bhaskar
Lyrics: Vijaya Narasimha
Singer: S. P. Balasubrahmanyam
Check out the lyrics here..
Neene Saakida Gini
Ninnaa Muddinaa Gini..
Haddaagi Kukkitallo
Ninna Haddaagi Kukkitallo
Neene Saakida Gini
Ninnaa Muddinaa Gini..
Chinnaada Choori Chendaava Thori
Chinnaada Choori Chendaava Thori
Bennalle Thooritallo
Bennalle Thooritallo
Netthaara Heeritallo
Ninna Netthaara Heeritallo
Neene Saakida Gini
Ninnaa Muddinaa Gini..
Beeso Gaali Birugaaliyaagi
Beeso Gaali Birugaaliyaagi
Benkiyaa Malethantallo
Benkiyaa Malethantallo
Benkeeli Bendeyallo
Uri Benkeeli Bendeyallo
Neene Saakida Gini
Ninnaa Muddinaa Gini..
Hoovaagi Arali Haavaagi Kerali
Hoovaagi Arali Haavaagi Kerali
Pranaava Hindithallo
Pranava Hindithallo
Edeyella Sidiyithallo
Ninna Naguvella Udugithallo
Neene Saakida Gini
Ninnaa Muddinaa Gini..
Haddaagi Kukkitallo
Ninna Haddaagi Kukkitallo
Haddaagi Kukkitallo
Ninna Haddaagi Kukkitallo
Manasa Sarovara Kannada Song Lyrics
Neene Saakida Gini
Manasa Sarovara
Chanda Chanda Sangaathi Notave
Haadu Haadu
Vedanthi Helidanu
Keliranna Keli
Comments
comments