April 24, 2018
Neerinanthe Nirmala Lyrics
Neerinanthe Nirmala Lyrics: Neerinanthe Nirmala is a song from the 1991 Kannada movie Navathare, written and directed by N. R. Nanjunde Gowda. The film was produced by Suresh Kumar Sharma under he banner Radhakrishna Productions. Navathare features Kumar Bangarappa, Anusha, Srinath, C R Simha, Mukyamanthri Chandru, Lohithashwa, Shani Mahadevappa, Umesh, Bangalore Nagesh, Krishne Gowda, Thipatur Siddaramaiah, Kalyani Premkumar, Navaneetha, Shobha, Sheela, Sarojamma, Seema, Parvathi, cricketer G R Vishwanath in a guest role and others.
Lahari Music is the music label of this movie. This song was written and compose by Hamsalekha. Neerinanthe Nirmala song was rendered by singers S. P. Balasubrahmanyam.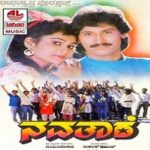 Neerinanthe Nirmala Lyrics
Movie: Navathare [1991]
Music Label: Lahari Music
Music: Hamsalekha
Lyrics: Hamsalekha
Singer: S. P. Balasubrahmanyam
Check out the lyrics here..
Neerinanthe Nirmala
Hoovinanthe Komala
Manjinanthe Sheetala
Haadinantha Hambala
Baaninanthe Nishchala
Eleya Bisilali Maleya Haniyali Prema.. Prema..
Edeya Goodali Madhura Nenapali Prema.. Prema..
Prema Aliyadu Prema Mareyadu Endu Bhoomiyali
Bhoomi Thirugalu Jeeva Uliyalu Prema Nelesirali
Neerinanthe Nirmala
Hoovinanthe Komala
Manjinanthe Sheetala
Haadinantha Hambala
Baaninanthe Nishchala
Kannininda Notavo
Notadinda Snehavo
Snehadinda Sparshavo
Sparshadinda Harshavo
Aaga Prema Varshavo
Koreva Chaliyali Bereva Thanuvali Prema.. Prema..
Benki Edurali Benne Manadali Prema.. Prema..
Maagi Ruthuvali Bhogi Rathadali Jodi Payanavidu
Bhoomi Biriyali Saave Kareyali Bere Aagadidu
Neerinanthe Nirmala
Hoovinanthe Komala
Manjinanthe Sheetala
Haadinantha Hambala
Baaninanthe Nishchala
Navathare Kannada Movie Songs
Moodanadaramane Bagila Theredanu
Onde Kshanadalli Parichayavaithu
Loka Loka Nododu Heegene
Sneha Ondu Thyagavo
O Majanu Ninage Sharanu
O Majanu Ninage Sharanu [Sad]
Romeo Romeo Banda Roadige Romeo
Neerinanthe Nirmala
Neerinanthe Nirmala [Duet]
Comments
comments