February 13, 2018
Nenapinali Kanasinali Lyrics
Nenapinali Kanasinali Lyrics: Nenapinali Kanasinali is a song from the 1982 Kannada movie Antharala [Antarala], directed by Suresh Heblikar. The film was produced under the banner Anubhava Films (P) Ltd. screenplay and dialogues by G S Sadashiva. Antharala features Suresh Heblikar, Mamatha Rao, Ramesh Bhat, Sundar Krishna Urs, Kaveri, Katte Ramachandra, Sridhar, Basanth, B S Achar, Rotti, Ve Mu Joshi, Venkatesh Prasad and others.
Sangeetha is the music label of this movie. This song was composed by L. Vaidyanathan with lyrics of M.N. Vyasa Rao. This song Nenapinali Kanasinali was rendered by Vani Jayaram.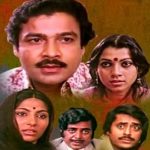 Nenapinali Kanasinali Lyrics
movie: Antharala [1982]
Music Label: Sangeetha
Music: L. Vaidyanathan
Lyrics: M N Vyasa Rao
Singer: Vani Jayaram
Check out the lyrics here..
Nenapinali Kanasinali
Bhavana Jeevana
Ninna Saniha Bisilina Kirana
Ninna Saniha Bisilina Kirana
Nanna Soki Karagithu Vadana
Nenapinali Kanasinali
Bhavana Jeevana
Neene Nanna Jeeva
Navaraaga Meetide
Neene Thanda Novu
Birugaaliyaagide
Neene Aasha Kirana
Baalalli Moodide
Nanna Aase Chivuti
Innelli Haaride
Nanna Manada Virahada Gaana
Nanna Manada Virahada Gaana
Dahisi Dahisi Kaviyithu Mouna
Nenapinali Kanasinali
Bhavana Jeevana
Bande Sukha Thande
Mugilaagi Thelide
Theli Minchi Saagi Sidilaade Baalige
Nanna Antharaala
Hambalisi Koogide
Ninna Jothegaagi
Yendendu Kaayuve
Belli Moda Miruguva Haage
Belli Moda Miruguva Haage
Minchi Doora Sariyutha Hode
Nenapinali Kanasinali
Bhavana Jeevana
Antharala Songs
Ekamma Sheelamma
Mareyalaare Samskruthi
Nenapinali Kanasinali
Raagi Thandeera
Comments
comments