November 3, 2017
Odahuttidavaru Song Lyrics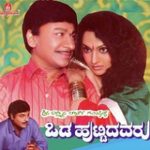 Odahuttidavaru Song Lyrics: Odahuttidavaru is a 1994 Kannada movie, directed by Dorai – Bhagawan. Odahuttidavaru features Rajkumar, Ambareesh, Madhavi, Srishanti, Vajramuni, K. S. Ashwath, Balakrishna, Umashree and others. The film was the last work of the acclaimed lyricist Vijaya Narasimha. Sangeetha is the music label of this movie.
Song were composed by Upendra Kumar with lyrics penned by M. N. Vyasa Rao. Song were rendered by Rajkumar, S. P. Balasubrahmanyam, Manjula Gururaj, Sangeetha Katti.
Check out the lyrics here..
Madhura Ee Kshana Lyrics
Movie: Odahuttidavaru [1994]
Music Label: Sangeetha
Music: Upendra Kumar
Lyrics: M. N. Vyasa Rao
Singers: Rajkumar, Manjula Gururaj
Nambi Kettavarillavo Lyrics
Movie: Odahuttidavaru [1994]
Music Label: Sangeetha
Music: Upendra Kumar
Lyrics: Chi. Udaya Shankar
Singer: Rajkumar
Sole Geluvendu Baalali Lyrics
Movie: Odahuttidavaru [1994]
Music Label: Sangeetha
Music: Upendra Kumar
Lyrics: Geethapriya
Singer: Rajkumar
Naanu Naanu Neenu Lyrics
Movie: Odahuttidavaru [1994]
Music Label: Sangeetha
Music: Upendra Kumar
Lyrics: Hamsalekha
Singers: Rajkumar, S. P. Balasubrahmanyam, Manjula Gururaj, Sangeetha Katti
Janakana Maatha Lyrics
Movie: Odahuttidavaru [1994]
Music Label: Sangeetha
Music: Upendra Kumar
Lyrics: Vijaya Narasimha
Singer: S. P. Balasubrahmanyam
Bennina Hinde Lyrics
Movie: Odahuttidavaru [1994]
Music Label: Sangeetha
Music: Upendra Kumar
Lyrics: Sri Ranga
Singers: S. P. Balasubrahmanyam, Sangeetha Katti
Comments
comments