April 22, 2018
Omkaaradi Kande Prema Naadava Lyrics
Omkaaradi Kande Prema Naadava Lyrics: Omkaaradi Kande Prema Naadava is a song from the 1997 Kannada movie Nammoora Mandara Hoove, directed by Sunil Kumar Desai and produced by Jayashree Devi under the banner Chinni Films. Nammoora Mandara Hoove features Shivrajkumar, Ramesh, Prema, Ramesh Bhat, Avinash, Suman Nagarkar, Kashi, Praveen, Kavana, Kishori Ballal, Vinayaka Joshi, V T Hegde, Anantha Hegde, Lalitha Hegde, Sripathi Ballal, Renukamma Murugod, Kaminidharan and others. This song was composed by Ilaiyaraaja with lyrics penned by V. Manohar. Omkaaradi Kande Prema Naadava duet song was rendered by maestro Ilaiyaraaja and K. S. Chithra.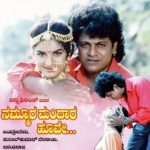 Omkaaradi (Duet) Lyrics
Movie: Nammoora Mandara Hoove [1997]
Music Label: Lahari Music
Music: Ilaiyaraaja
Lyrics: V. Manohar
Singers: Ilaiyaraaja, K. S. Chithra
Check out the lyrics here..
Omkaaradi Kande Prema Naadava
Ee Thaanadi Thande Nee Shubodaya
Anuraaga Nadiyu Jena Kadala Serithu
Priya Raagadinda Baduke Geluva Thandithu
Ninade Swaravu Ninade Varavu
Omkaaradi Kande Prema Naadava
Ee Thaanadi Thande Nee Shubodaya
Ninnee Harusha Nanage Vasantha Ohoho..
Ninnee Oavu Madhuraananda Oho Oho O..
Munjaane Moodo Rangawali
Neenaade Nanna Ee Baalalli
Mandahaasa Endu Ninde
Ninna Jayavu Endu Nande
Olave Olave Ninade Geluvu
Omkaaradi Kande Prema Naadava
Ee Thaanadi Thande Nee Shubodaya
Anuraaga Nadiyu Jena Kadala Serithu
Priya Raagadinda Baduke Geluva Thandithu
Ninade Swaravu Ninade Varavu
Omkaaradi Kande Prema Naadava
Olavu Iruva Manase Prashantha Oho Oho O..
Gelathi Hariso Harusha Sangeetha
Nooraaru Hoovu Haadaadavu
Nannaase Ella Saakaaravu
Mana Thumba Ninna Dhyana
Badukella Chaitra Gaana
Ninade Swaravu Ninade Varavu
Omkaaradi Kande Prema Naadava
Ee Thaanadi Thande Nee Shubodaya
Anuraaga Nadiyu Jena Kadala Serithu
Priya Raagadinda Baduke Geluva Thandithu
Ninade Swaravu Ninade Varavu
Omkaaradi Kande Prema Naadava
Ee Thaanadi Thande Nee Shubodaya
Omkaaradi Kande Prema Naadava
Ee Thaanadi Thande Nee Shubodaya
Comments
comments