January 8, 2018
Pakka Local Seizer Lyrics
Pakka Local Seizer Lyrics: Pakka Local Seizer is a song from an upcoming 2018 Kannada movie Seizer, written, directed and produced by Vinay Krishna under the banner Sree Kadari Lakshmi Narasimha Swamy Productions. Seizer features Ravichandran, Chiranjeevi Sarja, Parul Yadav, Prakash Raj, P. Ravi Shankar, Ramesh Bhat, Avinash Divakar and others. Aanand Audio is the music label of this movie.
This song was composed by Chandan Shetty with lyrics penned by Chethan-Bharjari. Pakka Local Seizer was rendered by Chandan Shetty.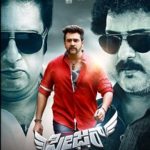 Pakka Local Seizer Lyrics
Album: Seizer [2018]
Music Label: Aanand Audio
Music: Chandan Shetty
Lyrics: Chethan-Bharjari
Singer: Chandan Shetty
Check out the lyrics here..
By Miss Aagi Eduru Bandaru
Mistake Aagi Potige Ilidaroo
Manasal Helko Gurooo
Chiranjeevi Bhava Ayushmaan Bhava
Thukku Ivanadu Solu
Kikku Ivanadu Rapid
Sigadu Onthara Candid
Kenaki Aagabeda Stupid
By Miss Aagi Eduru Bandaru
Mistake Aagi Potige Ilidaroo
Manasal Helko Gurooo
Chiranjeevi Bhava Ayushmaan Bhava
Pakka Local Seizer
Dhairyake Ondu Tiser
Symbol-Llu Reddu Danger
Kannu Onthara Razer
Kichak Kulake Nayakarivaru
Test Maadoke Thode Thattu
Transuform Kanro Ivaru
Escape Aagro Dayavittu
Ella Ivara Aata
Prathi Dina Kaadaata
Prathi Hejjeyu Nudidide
Yedeyali Kadaride
Thantege Bandare Hushaaarr
He Is The Crazy Star
By Miss Aagi Eduru Bandaru
Mistake Aagi Potige Ilidaroo
Manasal Helko Gurooo
Chiranjeevi Bhava Ayushmaan Bhava
Kai Mugidare Ivane God-Du
Kai Eththidare Very Bad-Du
Endendigu Ivare Strongu
Shivaji Nagarada Long-Gu
Character Ivaradu Full Different-Tu
Bhugatha Lokakide Ondu Nantu
Ellarigu Kodu Ivarade Hakku
Kodalebeda Kano Neenu Lookku
Iva Ninthare Shuru Horaata
—————————Maaraata
Yede Bechchiso Dhum Ide
Bedhisopower Ide Ivane Bullet-Ttu
————————–Saamraat-Uu
By Miss Aagi Eduru Bandaru
Mistake Aagi Potige Ilidaroo
Manasal Helko Gurooo
Chiranjeevi Bhava Ayushmaan Bhava
Seizer Songs Lyrics
Unilmited
Modalaa Baari
One N Only Evaa Yekangi
Hodallella
Pakka Local Seizer
Comments
comments