November 19, 2018
Pisumaathige Thusu Saligege Lyrics | Aduva Gombe
Pisumaathige Thusu Saligege Lyrics | Aduva Gombe: Pisumaathige Thusu Saligege is a Kannada song from an upcoming 2018 Kannada movie Aduva Gombe, written and directed by S. K. Bhagavan of Dorai – Bhagwan fame. Aduva Gombe features Anant Nag, Sanchari Vijay, Sudha Belawadi and others. This film marks the 50th film of director S. K. Bhagavan. The film was produced by A.Shivappa and K.Venugopal under the banner Kasturi Nivasa Creations.
Jabez K. Ganesh is the director of photography and Shivaprasad Yadav, Bharat Gowda are Editors.  PRK Audio is the music label of this movie. This song was composed by Hemant Kumar with lyrics penned by Kaviraj. Pisumaathige Thusu Saligege song was rendered by actor Shiva Rajkumar and singer Manasa Holla.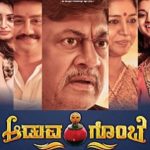 Pisumaathige Thusu Saligege Lyrics
Movie: Aduva Gombe [2018]
Music Label: PRK Audio
Music by: Hemant Kumar
Lyrics by: Kaviraj
Singers: Shiva Rajkumar, Manasa Holla
Check out the lyrics here..
Pisumaathige Thusu Saligege
Araluthide Jeevadalli Nasu Naachike
Pisumaathige Thusu Saligege
Araluthide Jeevadalli Nasu Naachike
Yedeya Olage Bidade Badiva
Baditha Ninade Thuditha Ninade
Ninna Nadege Ninna Nudige Marulaade Naa
Pisumaathige Thusu Saligege
Araluthide Jeevadalli Nasu Naachike
Modala Bahumaana Iniya Ninage
Kanasugalanu Srujisi Nanage Thaniso Parige
Ninna Yedeya Seremane
Seri Biduve Alle Iruve Beda Bidugade
Irulu Kavida Haadiyolage
Deepadanthe Jothege Neenu Baruthaliruve
Manade Maneyangaladalli Ninagaagi Kaadiruve
Baalannu Belagisuva Belakaagi Baa
Manada Maneyangaladalli
Janiside Bhuviya Mele
Ninna Saluvaagi Naanu
Tharuvenu Jagada Ella
Kushiyu Ninagaagi Naanu
Neene Belaku Neene Baduku
Nanna Chethanave
Nooru Januma Ninna Saniha
Heege Naaniruve
Tholalli Thumbi Maguvanthe
Kaayuve Nannolave
Tholalli Thumbi Maguvanthe
Kaayuve Nannolave
Neenu Thanda Preethi Inda
Naane Dhanyanu
Jeevakintha Jasthi Innu Nange Neenu
Pisumaathige Thusu Saligege
Araluthide Jeevadalli Nasu Naachike
Pisumaathige Thusu Saligege
Araluthide Jeevadalli Nasu Naachike
Comments
comments