February 22, 2019
Pogaadirelo Ranga Song Lyrics | Haalu Jenu
Pogaadirelo Ranga Song Lyrics | Haalu Jenu: Pogaadirelo Ranga is a kannada song from the 1982 Kannada movie Haalu Jenu, directed by Singeetham Srinivasa Rao and produced by Smt Parvathamma Rajkumar under the banner Poornima Enterprises. The film was remade in Telugu as Illale Devatha [1985] starring Akkineni Nageswara Rao, Raadhika, Bhanupriya and others.
Pogaadirelo Ranga Song was composed by Music director G. K. Venkatesh using one of the keerthanas of Purandara Dasaru. This song was rendered by S. Janaki. Sangeetha is the music label of this movie.
The film marks the Kannada debut of famous director Singeetham Srinivasa Rao. The story of the movie was written by P. Padmaraju and screenplay was penned by Singeetham Srinivasa Rao.
Haalu Jenu featuring Dr. Rajkumar, Madhavi, Roopa Devi, Thoogudeepa Srinivas, Shivaram, Musuri Krishnamurthy, Shakthi Prasad, Chandrashekar, Shivaprakash, Umesh, Sudarshan, Dakshinachar, Manju, Nagaraj, Thimmayya, Yathiraja, Gopal, Papamma, Saraswathi, Janaki, Mallika, Latha, Kamanidharan, Sudha Sindur, Guljar, Sunanda, Baby Sangeetha, Chi. Udayashankar and others.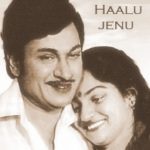 Pogaadirelo Ranga Lyrics
Movie: Haalu Jenu [1982]
Music Label: Sangeetha
Composed By: G. K. Venkatesh
Written By: Purandara Dasa
Vocals: S. Janaki
Check out the lyrics here..
Pogaadirelo Ranga..
Pogaadirelo Ranga..
Baagilindhaache
Pogaadirelo Ranga
Bhaagavatharu Kandu
Bhaagavatharu Kandu
Ethikondoyvaru Ranga
Pogaadhirelo Ranga
Suramunigalu Thamma Hrudhaya Kamaladalli
Suramunigalu Thamma Hrudhaya Kamaladalli
Paramaathmana Kaanade Arasuvaru..
Dhorakadha Vasthuvu Dhorakeethu Thamagendhu
Dhorakadha Vasthuvu Dhorakeethu Thamagendhu
Harushaadindali Ninna Karadheththi Kombuvaru
Pogaadhirelo Ranga
Aganitha Guna Ninna Jagada Naariyarellaa
Aganitha Guna Ninna Jagada Naariyarellaa
Hageyaagi Nudidaru Gopaalane
Magugala Maanikya Thagalithu Karakendu
Vegadindali Bandhu Bigidhappi Kombuvaru
Pogaadhirelo Ranga
Dhitta Naariyaarella Ishtava Salisendhu
Dhitta Naariyaarella Ishtava Salisendhu
Attatti Bennatti Thiruguvaro.. Oo.. O..
Attatti Bennatti Thiruguvaro..
Srshtisha Purandhara Vittala Raayane
Srshtisha Purandhara Vittala Raayane
Ishtishtu Benneya.. Kotteno Rangayya
Pogaadirelo Ranga
Baagilindhaachege Pogaadhirelo Ranga
Haalu Jenu [1982] Songs
Aaneya Mele Ambaari Kande
Haayagi Kulithiru Neenu
Haalu Jenu Ondada Haage
Baalu Belakayithu
Pogaadirelo Ranga
Comments
comments