November 17, 2017
Preethiye Nannusiru Lyrics
Preethiye Nannusiru Lyrics: Preethiye Nannusiru is a song from the 1986 Kannada movie Karna, directed by H. R. Karna features Vishnuvardhan, Sumalatha, K. S. Ashwath and Gangadhar, Shivaram, Sumithra and others. The film was a remake of Hindi film Saaheb which itself was remade from a Bengali film of same name. Sangeetha music is the music label of this movie. This song was composed by M. Ranga Rao with lyrics written by Chi. Udayashankar. Preethiye Nannusiru was rendered by S. P. Balasubrahmanyam and S. Janaki.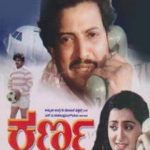 Preethiye Nannusiru Lyrics
Movie: Karna [1986]
Music Label: Sangeetha
Music: M. Ranga Rao
Lyrics: Chi. Udayashankar
Singers: S. P. Balasubrahmanyam, S. Janaki
Check out the lyrics here..
Preethiye Nannusiru
Preethiye Nannusiru
Chinna Belli Vajra Kempu Havala
Sukha Needuvude
Preethiye Nannusiru
Preethiye Nannusiru
Chinna Belli Vajra Kempu Havala
Sukha Needuvude
Preethiye Snehava Needuvudu
Snehave Harushava Thumbuvudu
Harushave Sukhavanu Needuvudu
Aa Shukha Nemmadi Thumbuvudu
Nemmadi Youwwana Ulisuvudu
Preethiye Nannusiru
Preethiye Nannusiru
Chinna Belli Vajra Kempu Havala
Sukha Needuvude
Sukha Needuvude
Prethiye Lokake Jagavella
Sundara Lokavu Sullalla
Preethiya Maathige Solilla
Preeethige Endu Hoththilla
Prethiya Marethare Naavilla
Preethiye Nannusiru
Preethiye Nannusiru
Chinna Belli Vajra Kempu Havala
Sukha Needuvude
Sukha Needuvude
Chinna Belli Vajra Kempu Havala
Sukha Needuvude
Sukha Needuvude
Chinna Belli Vajra Kempu Havala
Sukha Needuvude
Sukha Needuvude
Karna Kannada Movie Songs
Aa Karnananthe Nee Daaniyaade
Preethiye Nannusiru
Tharam Pam Pam
Chuku Chuku Bidu Kopava
Aaha Nanna Jotheyali
Comments
comments