April 4, 2018
Prema Prema Song Lyrics
Prema Prema Song Lyrics: Prema Prema is a super hit song from the 1997 Kannada film Kalavida, written, directed and produced by V. Ravichandran under his home banner Sri Eshwari Productions. Kalavida features V. Ravichandran, Roja, Heera Rajagopal, Raghuvaran, Dolly Minhas, Umashree, Vaishali Kasaravalli, Ramesh Bhat, Shobhraj, Guru Dattand, B V Radha, Anjali, Shivaram, Lohithashwa and others. Jhankar Music holds the audio rights of this movie. This song was written and composed by Hamsalekha. Prema Prema song was rendered by Singer Hariharan.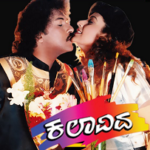 Prema Prema Lyrics
Movie: Kalavida [1997]
Music Label: Jhankar Music
Music: Hamsalekha
Lyrics: Hamsalekha
Singer: Hariharan
Check out the lyrics here..
Prema Prema
Premaaa Prema Premaaa Prema
Premaaa Prema Premaaa Prema
O Tuntiye Ooo Gorantiye Aaa
Elliruveye Hegiruveye
Sakinnu Baare Baa Baare Hudugata
Ninagaagi Nanna Balella Hudukaata
Oo Sanjeye Ooo Kaaranjiye Aaa
Yavurige Hogiruveye
Sakinnu Baare Baa Bare Tuntaata
Bedamma Beda Ee Preeti Joojata
Premaaa Prema Premaaa Prema
Premaaa Prema Premaaa Prema
Premaaa Prema Premaaa Prema
Bannada Neeralli
Kunchada Koneyalli
Haaleya Edeyalli
Ninnannu Bidisoke Nodide
Moodade Nee Goju Maadide
Premaaa Prema Premaaa Prema
Baare Prema Baare Prema
Oo Kunchave Ooo Sankochave Aaa
Oo Bannave Binnanave
Saakinnu Baare Baa Baare Chellata
Kelisadene Ee Nanna Koogaata
Maatali Nee Munde
Allige Baa Ande
Tappade Naa Bande
Alliye Neeniruve Endaru
Ellaru Neenille Andaru
Premaaa Prema Premaaa Prema
Premaaa Prema Premaaa Prema
Premaaa Prema Premaaa Prema
Saakinnu Baare Ba Baare Hudugaata
Ninagaagi Nanna Baalella Hudukaata
Oo Tuntiye Oo Malliye
Oo Kalliye Oo Sulliye
Sakinnu Baare Baa Bare Hudugata
Ninagagi Nanna Baalella Hudukaata
Kalavida Songs Lyrics
Saavirake Obba Kalavida
Hey Navile
Andagara Alimayya
Prema Prema
Hoova Roja Hoova
Iniya Iniya
Ondu Bechhane
Comments
comments