November 5, 2017
Raagavaagi Naanu Bhoomige Lyrics
Raagavaagi Naanu Bhoomige Lyrics: Raagavaagi Naanu Bhoomige is a song from the 1994 Kannada movie Karulina Koogu, directed by D. Rajendra Babu. The film is a remake of Malayalam hit Akashadoothu (1993) directed by Sibi Malayil.
This movie features Tiger Prabhakar, Vinaya Prasad, Srinath, Lakshman, M. S. Karanth, Richard Louis, Umashree, Srinivasamurthy, Pramila Joshai, Doddanna, Ashalatha, Shanthamma and others.
Lahari Music was the music label of this movie. This song was composed and lyrics penned by Hamsalekha. Raagavaagi Naanu Bhoomige was rendered by K. S. Chithra.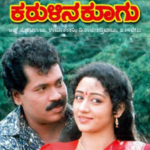 Raagavaagi Naanu Bhoomige Lyrics
Movie: Karulina Koogu [1994]
Music Label: Lahari Music
Music: Hamsalekha
Lyrics: Hamsalekha
Singer: K. S. Chithra
Check out the lyrics here..
Raagavaagi Naanu Bhoomige Bande
Panchamada Swaravilla Magarisa Gari Dasa Ma
Nishaadada Neravilla
Raagaheenavaagau Raagaheenavaagalu
Vaayu Leenavagalu
Raagavaagi Naanu Bhoomige Bande
Panchamada Swaravilla
Raamapaadada Sparsha Padeda Aa Shileyanthe
Shapa Mukthiya Kshanake Kaayuthiruve
Illi Karulina Koogu Alli Devara Koogu
Kaththariya Baayolage Naluguthiruve
Sangeetha Madhura Samsara Samara
Mathru Devo Bhava
Pithru Devo Bhava
Aacharya Devo Bhava
Anuraaga Amara Alpaayu Adhara
Raagavaagi Naanu Bhoomige Bande
Panchamada Swaravilla Vishaadada Neravilla
Raagaheenavaagau Vaayu Leenavagalu
Raagavaagi Naanu Bhoomige Bande
Panchamada Swaravilla
Usiru Saaladu Indu Haadalarenu Mundu
Jeevisuva Hambalavu Kalukuthiralu
Baalu Kambani Kadalu Naduve Makkalu Iralu
Thelisuva Maravaago Varava Tharalu
Yamanoora Nadeve Jeevadaana Padeve
Marujanma Padeve Belakaagi Baruve
Panchamava Sokidare Noovu Noovu Nooovu
Vishadava Sokidare Saavu
Karulina Koogu Songs
Hendakuduka Rathna Nanna
Alabeda Magale Kaththalaguvaaga
Bidurina Kolalu
Raagavaagi Naanu Bhoomige
Naanu Badava Naanu Badavi
Comments
comments