April 4, 2018
Saavirake Obba Kalavida Song Lyrics
Saavirake Obba Kalavida Song Lyrics: Saavirake Obba Kalavida is a super hit song from the 1997 Kannada film Kalavida, written, directed and produced by V. Ravichandran under his home banner Sri Eshwari Productions. Kalavida features V. Ravichandran, Roja, Heera Rajagopal, Raghuvaran, Dolly Minhas, Umashree, Vaishali Kasaravalli, Ramesh Bhat, Shobhraj, Guru Dattand, B V Radha, Anjali, Shivaram, Lohithashwa and others. Jhankar Music holds the audio rights of this movie. This song was written and composed by Hamsalekha. Andagara Alimayya song was rendered by Singer S. Janaki.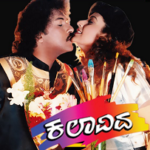 Saavirake Obba Kalavida Lyrics
Movie: Kalavida [1997]
Music Label: Jhankar Music
Music: Hamsalekha
Lyrics: Hamsalekha
Singer: S. Janaki
Check out the lyrics here..
Saavirakke Obba Kalavida
Saavirake Obba Kalavida
Hoomanada Chitra Kalavida
Chaitra Maasava Chitra Madida
Abhimaanava Hole Madida
Saavirake Obba Kalavida
Homanada Chitra Kalavida
Kaiyalli Putta Kuncha
Kannallo Ee Prapancha
Aa Mansello Aa Thapasello
Bili Haleyali Rasa Veleyali Ee Chittaraa
Aaa Ravigee Belaku Neralina Aata
Ee Kunchake Elu Bannagala Koota
Saavirake Obba Kalavida
Hoomanada Chitra Kalavida
Olagannu Teredu Nodu
Soundarya Soore Maadu
Ee Jagavella Bari Kaleyante
Ee Kaleyalli Ee Baleyalli Nee Sereyagu
Eee Dehake Tappadu Endigu Saavu Novu
Eee Jeevake Tappade Tinisu Kaleya Mevu
Saavirake Obba Kalavida
Hoomanada Chitra Kalavida
Chaitra Masava Chitra Madida
Abhimanava Hole Madida
Kalavida Songs Lyrics
Saavirake Obba Kalavida
Hey Navile
Andagara Alimayya
Prema Prema
Hoova Roja Hoova
Iniya Iniya
Ondu Bechhane
Comments
comments