July 4, 2017
Sipayi Ramu Song Lyrics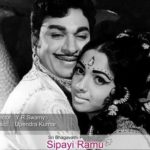 Sipayi Ramu Song Lyrics: Sipayi Ramu is a 1972 Kannada movie, directed by Y. R. Swamy. The film is based on the novel Barale Innu Yamune? by Nuggehalli Pankaja. Sipayi Ramu features Rajkumar, Leelavathi, Aarathi, K. S. Ashwath, Shivaram, Vajramuni, Thoogudeepa Srinivas and others. Saregama is the music label of this movie.
Songs were composed by Upendra Kumar with lyrics penned by R. N. Jayagopal. Songs were rendered by P. B. Sreenivas, P. Susheela, S. P. Balasubrahmanyam, L. R. Eswari.
Check out the lyrics here..
Ellige Payana Yaavudo Daari Lyrics
Movie: Sipayi Ramu [1972]
Music Label: Saregama
Music: Upendra Kumar
Lyrics: R. N. Jayagopal
Singer: P. B. Sreenivas
Nidireyu Sadaa Eko Doora Lyrics
Movie: Sipayi Ramu [1972]
Music Label: Saregama
Music: Upendra Kumar
Lyrics: R. N. Jayagopal
Singers: P. B. Sreenivas, P. Susheela
Kanna Notadalle Nee Kaadabeda Lyrics
Movie: Sipayi Ramu [1972]
Music Label: Saregama
Music: Upendra Kumar
Lyrics: R. N. Jayagopal
Singer: P. Susheela
Thangaali Sangeetha Haadide Lyrics
Movie: Sipayi Ramu [1972]
Music Label: Saregama
Music: Upendra Kumar
Lyrics: R. N. Jayagopal
Singer: P. Susheela
Kokorekoko Kokorekoko Ko Lyrics
Movie: Sipayi Ramu [1972]
Music Label: Saregama
Music: Upendra Kumar
Lyrics: R. N. Jayagopal
Singers: S. P. Balasubrahmanyam, L. R. Eswari
Save
Comments
comments