November 26, 2017
Suprabhatha Kannada Song Lyrics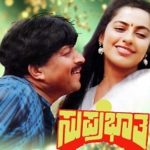 Suprabhatha Kannada Song Lyrics: Suprabhatha is a song from the 1988 Kannada movie, directed and written by Dinesh Babu. Suprabhatha features Vishnuvardhan, Suhasini, Srividya, Maanu, Vijaya Kashi, Anand Kumar and others. Sangeetha music is the music label of this movie.
Songs were composed by Rajan-Nagendra with lyrics penned by Chi. Udaya Shankar. Songs were rendered by S. P. Balasubramanyam and K. S. Chithra.
Check out the lyrics here..
Nanna Haadu Nannadu Lyrics
Movie: Suprabhatha [1988]
Music Label: Sangeetha
Music: Rajan-Nagendra
Lyrics: Chi. Udaya Shankar
Singer: S. P. Balasubramanyam
Ee Hrudaya Haadide Lyrics
Movie: Suprabhatha [1988]
Music Label: Sangeetha
Music: Rajan-Nagendra
Lyrics: Chi. Udaya Shankar
Singer: S. P. Balasubramanyam
Cheluve Nanna Cheluve Lyrics
Movie: Suprabhatha [1988]
Music Label: Sangeetha
Music: Rajan-Nagendra
Lyrics: Chi. Udaya Shankar
Singers: S. P. Balasubramanyam, K. S. Chithra
Aralida Aase Lyrics
Movie: Suprabhatha [1988]
Music Label: Sangeetha
Music: Rajan-Nagendra
Lyrics: Chi. Udaya Shankar
Singers: S. P. Balasubramanyam, K. S. Chithra
Ee Hrudaya Haadide [Female] Lyrics
Movie: Suprabhatha [1988]
Music Label: Sangeetha
Music: Rajan-Nagendra
Lyrics: Chi. Udaya Shankar
Singer: K. S. Chithra
Cheluva Nanna Cheluva [Female] Lyrics
Movie: Suprabhatha [1988]
Music Label: Sangeetha
Music: Rajan-Nagendra
Lyrics: Chi. Udaya Shankar
Singer: K. S. Chithra
Comments
comments