February 12, 2018
Thali Kattuva Shubha Vele Lyrics
Thali Kattuva Shubha Vele Lyrics: Thali Kattuva Shubha Vele is a song from 1983 Kannada movie Benkiyalli Aralida Hoovu, directed by K. Balachander. Benkiyalli Aralida Hoovu features Suhasini, Pavithra, Rajeev, Sarath Babu, Jai Jagadish, Sunder Raj, Ramakrishna, Leelavathi, Vijayalakshmi Singh, Kamal Hassan and others.
Kamal Haasan has appeared in a guest role as a bus conductor. This movie is a remake of Tamil film Aval Oru Thodar Kathai (1974), which also had Kamal Hassan playing a different role. Saregama was the music label for this movie.
This song was composed by M. S. Viswanathan with lyrics penned by Chi. Udaya Shankar. Thali Kattuva Shubha Vele Songs was rendered by S. P. Balasubrahmanyam.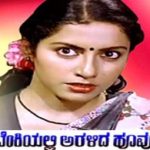 Thali Kattuva Shubha Vele Lyrics
Movie: Benkiyalli Aralida Hoovu [1983]
Music Label: Saregama
Music: M. S. Viswanathan
Lyrics: Chi. Udaya Shankar
Singers: S. P. Balasubrahmanyam
Check Out the Lyrics Here…
Thali Kattuva Shubha Vele
Kaiyyalli Hoovina Maale
He He He Aha Haa
Hm Hm Hm Ra Ra
Thali Kattuva Shubha Vele
Kaiyyalli Hoovina Maale
Yaarige Yaarednu Vidhi Barediruva Yendo |2|
Thali Kattuva Shubha Vele
Kaiyyalli Hoovina Maale
Naanobba Vikata Kavi
Keli Ondu Kathe
Ondu Dodda Kaadu
Alli Ondu Dodda Aalada Mara
Akka Thangi Ginigalu
Eradu Pakkadi Kulithiralu
Rekkeya Badiyutha Haarutha
Bandavu Giligalu Inneradu
Averadu Gandu Ginigalu
Thangiya Anda Kanda Ginigalu
Preethiya Thoruthire
Ondanu Kandu Hennaraginiyu
Aaseya Keluthire
Manassu Ondaayithu Olavu Ariyithu
Chinna Ranna Neene Nanna Praana
Thali Kattuva Shubha Vele
Kaiyyalli Hoovina Maale
Thaalavu Melavu Mangala
Vaadyavu Kaadali Thumbithamma
Thaalavu Melavu Mangala
Vaadyavu Kaadali Thumbithamma
Pushpa Vimanadi Maduveya
Udugore Bhoomige Iliyithamma
Andada Hennina Chandada
Beralu Veeneya Meetithamma
Singaari Dharisida Bangaara
Gejjeyu Ghala Ghala Kuniyithamma
Kaadalli Meyuva Govugalella
Harasi Hodavamma
Putaani Molagalu Kaiyyanu
Kuluki Shubhashaya Korithamma
Wish You Wish You Happy Life
Happy Happy Married Life
Jinkeyu Ondu Sadagaradinda Manthrava Helithamma |2|
Nooraaru Varusha Baaliri Yendu Aaneyu Haadithamma
Thali Kattuva Shubha Vele
Kaiyyalli Hoovina Maale
Maaleya Haakida Ginigalu
Andu Aananda Hondithamma
Maduveya Maadida Aragini
Mounadi Dooradi Ninthithamma
Thappagi Thilidu Beppada Gandu Gini
Kan Kan Bittithamma
Adu Thannanthe Yenu Nadeyadu
Yemba Sathyava Ariyithamma
Thali Kattuva Shubha Vele
Kaiyyalli Hoovina Maale
Yaarige Yaarednu Vidhi Barediruva Yendo
Thali Kattuva Shubha Vele
Kaiyyalli Hoovina Maale
Benkiyalli Aralida Hoovu [1983] Songs:
Thali Kattuva Shubha Vele
Munde Banni Innoo Munde Banni
Benkiyalli Aralida Hoovu Naanamma
Hogu Yennalu Nee Yaaru
Premada Geetheya Haaduva
Comments
comments