September 24, 2018
Thangiye Kelamma Lyrics | Ibbani Karagithu
Thangiye Kelamma Lyrics | Ibbani Karagithu: Thangiye Kelamma is a song rendered by playback singer S. P. Balasubrahmanyam for the movie Ibbani Karagithu released in 1983. The film was directed by K. V. Jayaram and produced by Mohan under the banner Varalakshmi Movies. It is based on the novel of the same name by Saisuthe.
Ibbani Karagithu features Ananth Nag, Lakshmi, Deepa, K. S. Ashwath, Balakrishna, Leelavathi, Sundar Krishna Urs, Musuri Krishna Murthy, Mysore Lokesh, Umesh, Prathap, Jaggesh, G. Chandrashekar and others. Sangeetha Music is the music label of this movie. This song was composed by Rajan-Nagendra with lyrics penned by Chi. Udaya Shankar.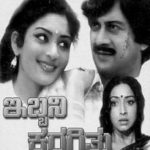 Thangiye Kelamma Lyrics
Movie: Ibbani Karagithu [1983]
Music Label: Sangeetha Music
Music: Rajan-Nagendra
Lyrics: Chi. Udaya Shankar
Singer: S. P. Balasubrahmanyam
Check out the lyrics here..
Thangiye Kelamma Naachike Yekamma
Thangiye Kelamma Naachike Yekamma
Sankochadinda Laabha Illa
Ninnanna Ellavannu Balla
Muththinantha Gandanannu Neene Hudukideya
Maththininda Maaru Hogi Maduve Aaguveya
Maathu Giniyanthe Avana Banna Kempanthe
Antha Anda Antha Chanda Kande Illa Ahaha
Muddu Baruvanthe Avana Maathu Jenanthe
Ninna Bittu Endu Ellu Hogodilla
Seragu Hididene Iruva Ninna Hindene Aleva
Mella Gannu Kaikal Sanna Hotte dubbanna
Ello Nota Ello Maathu Poli Subbanna
Sariye Helamma..
Thangiye Kelamma Naachike Yekamma
Thangiye Kelamma Naachike Yekamma
Sankochadinda Laabha Aha Haa
Ninnanna Ellavannu Balla
Navilinanthe Hejje Hakuva Are Are Are Are
Jinkeyanthe Chimmutha Baruva Arererere
Navilinanthe Hejje Hakuva
Jinkeyanthe Chimmutha Baruva
Nadeyalle Natarajanu Nu Uu Uu
Nodoke Kanneradu Saaladu
Hogoloke Maathugale Baaradu
Ondu Kaaludda Innondu Chotudda
Gutuku Gutuku Kaalanittu Kuntikondu Kunidu Thaniva
Muththinantha Gandanannu Neene Hudukideya
Maththininda Maaru Hogi Maduve Aaguveya
Thangiye Kelamma Nachike Yekamma
Thangiye Kelamma Nachike Yekamma
Sankochadinda Laabha Illa Ninnanna Ellavannu Balla Are Rere
Mm Mm Mavana Magale Mm Mm Mallige Harale
Ahh Ahha Atteya Magale Mumu Mutthina Chande
Ninagagiye Bholokake Ppp Pppe Pritiya Mamama Madalau
Ppp Pppe Pritiya Mamama Madalau
Illige Bandanu Bandaga Kandanu Kandaga Sothanu Sothu Ninthanu
Thangiye Kelamma Naachike Yekamma
Thangiye Kelamma Naachike Yekamma
Sankochadinda Laabha Illa Ninnanna Ellavannu Balla
Muththinantha Gandanannu Neene Hudukideya
Maththininda Maaru Hogi Maduve Aaguveya
Ibbani Karagithu [1983] Songs
Thanu Ninnadu
Nanna Kannali Ninna Bimbave
Cheluve Oh Cheluve
Thangiye Kelamma
Habba Habba
Comments
comments